Exam
(2008)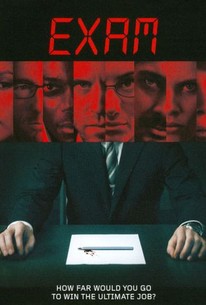 Movie Info
Shown into a windowless examination room, eight candidates have reached the final stage of selection for a prestigious job at a mysterious corporation. There is one question before them and one answer is required. If they try to speak to him or the armed guard by the door they will be disqualified. If they leave the room for any reason they will be disqualified. If they spoil their papers they will be disqualified. As the clock ticks down, they must figure out what the company expects of them, and how far they are prepared to go to secure the ultimate job.
News & Interviews for Exam
Audience Reviews for Exam
½
Although it begins quite well, Exam is too unoriginal and only draws inevitable comparisons to The Apprentice and films like Cube and The Method. However, the real problem is how pointless the story really is, including a frustrating ending.
Carlos Magalhães
Super Reviewer
Flawed, but still worthwhile answer to time-pass.
familiar stranger
Super Reviewer
The premise is nihilistic but pretty cool. In the near future, eight strangers are applying for a job and a company that are not much more specified than that. They come together during the final exam, a white sheet of paper in front of then. What's missing is a question. The discussions and conflicts that arise as the clock is ticking down from 80 minutes´are sometimes realistic and sometimes a bit forced. It doesn't exactly help that none of the characters is particularly likable, but their struggle to come up with a solution to the situation is still entertaining, sometimes even exciting. The twist towards the end doesn't exactly blow you away but is still neat enough and it is refreshing that the solution lacks any sign of cynicism.
Exam Quotes
| | |
| --- | --- |
| Black: | All each of us can do today is loose what we've already won through selfishness, stupidity, and impatience! |
| | |
| --- | --- |
| Invigilator: | The test is simple in comparison, yet it will determine who leaves this room with a contract of employment, and who leaves with bus fair home. |
| Invigilator: | The test is simple in comparison, yet it will determine who leaves this room with a contract of employment, and who leaves with bus fare home. |