Excalibur
(1981)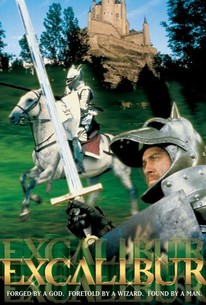 TOMATOMETER
AUDIENCE SCORE
Critic Consensus: John Boorman's operatic, opulent take on the legend of King Arthur is visually remarkable, and features strong performances from an all-star lineup of British thespians.
Movie Info
According to reports from the set, director John Boorman commandeered the Arthurian adventure Excalibur in the manner of a medieval war lord, expecting his cast and crew to figuratively die with swords in hand if need be. As a result, everyone in the film looks as though he or she is prepared to slit the throat of anyone who looks at them cross-eyed. Nigel Terry stars as the idealistic King Arthur, whose establishment of the idyllic Camelot does not take into account the fact that others are not as noble or altruistic as he is. The fly in the ointment is the covetous Morgana (Helen Mirren), who sets the wheels of Camelot's destruction in motion by bringing Arthur's attention to the love affair between Queen Guenevere (Cherie Lunghi) and Sir Lancelot (Nicholas Clay). Props essential to the action are the elusive Holy Grail, and of course, the magical Excalibur sword. Far removed from the prettiness of the musical Camelot, Excalibur is set amidst the mud and maggots of Boorman's grim (and occasionally erotic) vision of pre-Norman England. Thomas Malory's Morte D'Arthur is listed as the source material for Excalibur, but, as is customary with Boorman, there is plenty of embroidering on the original.
News & Interviews for Excalibur
Critic Reviews for Excalibur
Audience Reviews for Excalibur
½
Set in the wilds of Ireland and with a pretty full cast of Irish actors, which set in motion the careers of both Liam Neeson and Gabriel Byrne, whilst also utilising some classic/cult British names for spice. Like Robin Hood there are many stories of the legendary King Arthur and his Knights of the round table but this film is probably the most accurate in terms of an adaptation from original period text. This film is based around the tales from [i]Le Morte d'Arthur[/i] and seems to follow each 'segment' quite closely (haven't read it so I'm not sure). The overall essence of this film is like a fairytale of sorts, a kind of slightly cheesy shiny armoured fantasy with glittery sets, soft colours, strong religious/iconic imagery and a [i]Clannad[/i] vibe running through it. The film reminded me of the classic British TV series 'Robin of Sherwood' (which also starred the dastardly Robert Addie) and the classic British fantasy film 'Krull'. I think the latter took inspiration from the visual aspect of 'Excalibur', possibly. The design and look of this film is really very good, its clearly rather dated but it still has a high polish to it and looks quite epic. The locations really give an authentic feel, an solid impression of old medieval England complete with excellent costumes. Of course this being the 80's the armour does look a bit fake, a bit plastic, flimsy and too shiny in places. There is also a kind of music video feel to the proceedings in places. Some sets look a bit too sparkly, some characters have some dubious haircuts and to be utterly honest the acting and dialog is pretty hilarious in places, but you can't deny the effort and scope of this historical fantasy. This being in the days before CGI when historical epics were all the rage, the battle sequences are small with some blood and minimal gore. You can easily tell they didn't have a big crew to make such grand battles so clever editing is used with lots of darkness and fog. Luckily old England was a foggy place...or so I've been led to believe. The other slightly amusing thing was the soundtrack, there is original work here but the use of classical pieces slapped on top of key sequences didn't really work (for me at least). The combination of certain scenes and certain pieces of music felt very rickety and really did seem crowbarred in badly. You can see what the director was going for but it comes off more like a parody of sorts, something not too dissimilar from 'Monty Python and the Holy Grail'. The plot is straight forward and it doesn't become dull despite the heavy romance involved. The film is layered and rich, vivid imagery and beautiful design giving the whole production much flare and class. It all works pretty flawlessly because you know these were the days when everything was hand crafted. The film is a cult classic with a bitchin' powerful poster that demands your attention (it draws you in). On a final note, the acting in general may be acceptable but Nicol Williamson's Merlin is also another good reason to see this film. A truly unique quirky take on the character spouting some glorious lines, 'oh that's grand'.
Phil Hubbs
Super Reviewer
Still the movie that sticks closest to the King Arthur myth in its original form, this film is like a strike with a two-hand blade. Beautifully filmed in real set pieces and landscapes the film never feels cheap or fake, despite of its early 1980s origin. Same goes for the costumes, weapon and armor. Things are dirty, bloody and feel accordingly real. Of course, the story does contain Merlin's magic and ultimately the search for the holy grail, so the film does not pretend to be an actual medieval history lesson. But even with a couple of clumsy scenes and dialogs, the film delivers on every level: The battles are cool, there is eye candy, romance, fantasy and gore. When the knights ride through the cherry tree fields to the music of the Carmina Burana you know there is hell to pay. A mesmerizing and fascinating piece of film making of Wagnerian proportions that stood the test of time.
½
Beautifully filmed in the wilds of Ireland, Excalibur tells the Arthurian legend in a way that is gritty, real, and at times heart breaking. There have been hundreds if not thousands of films dealing with Arthur, but for me, this one has always held a strong place in my memory. Upon this viewing, a good 20 years since my previous one, I note that time once again (as I noticed with Chinatown) cannot stand up to my memory. My memory certainly recalled all the high points - and believe me, there are many, but had glossed over some of the achingly bad dialog and overdubbing. I had also forgotten the written prologue and the overuse of fade to black editing (you either love it or hate it - on this viewing it often felt like I was watching this on TV and each fadeout was a really good spot for a commercial interruption). Still, for all that, the film certainly has its moments, and those moments shine. The cinematography and art direction are flawless (and nominated for an Oscar if memory serves) - the wonderful Wagner soundtrack fitting the moods of the film to a tee. The performances are often quirky, but I feel that in many cases it is due to the dialogue itself than to a lack of talent by the actors. Nigel Terry's Arthur grows from young, naïve, doofus boy to living embodiment of the soul of a nation. Nicol Williamson as Merlin does a wonderful job of spitting out the dialogue, and changing his vocal tones so you aptly feel this otherworldly quality about him - which is apropos. His interplay with Morgana (holy cow - that's Helen Mirren!!) is wonderful in a cat and mouse, odd duck flirty way. Along the way you can also pick up some of the armored knights - Patrick Stewart and... isn't that Lliam Neeson as Gawain? This is all fun, and at times the story teeters on the absurd, but John Boorman always manages to then do something truly special - splitting the camera time between Lancelot and Guenevere's naked tryst in a green glade and the aforementioned quasi romance (a romance over power perhaps) between Morgana and Merlin, taking place in a stalagmite filled cavern (which Merlin calls the heart of the dragon). It is scenes like this and the final battle scenes with a blood red sun casting its pall over the fog enshrouded countryside; all choreographed with that epic Wagnerian music that makes this film, for my money, the best Arthurian film - especially for taking a chance with a different theme - that Arthur and the land are one - which made the scene with the revitalized Arthur riding into battle through a field of flowering trees, the buds swirling around him like snow, all the more poignant and special. If you can get past the creaky dialogue and appreciate the stunning visuals that still stand up today, you'll enjoy this film. As Merlin says at one point "a dream to some, a nightmare to others".
paul sandberg
Super Reviewer
Excalibur Quotes
| | |
| --- | --- |
| Merlin: | Look into the eyes of the Dragon and despair! I destroy you, I consign you to oblivion! |
| | |
| --- | --- |
| Merlin: | Behold Excalibur! The sword of power! Forged when birds and beasts and flower were One with Man, and death was but a dream! |
| | |
| --- | --- |
| King Arthur: | What is the greatest quality of knighthood? No poetry, just a simple answer. |
| Merlin: | Alright then. Truth! That's it, truth. When a man lies he murders some part of world. You should know that. |
| | |
| --- | --- |
| Merlin: | You betrayed the duke. You stole his wife. You took hist castle; now no one trusts you. It's not for you, Uther-- hearth and home, wife and child. |
| Uther: | To kill, and be king? Is that all? |
| Merlin: | Perhaps not even that. Give me the child. |