Executive Suite
(1954)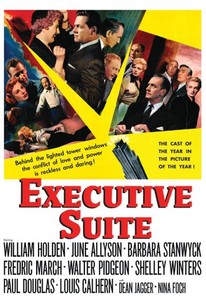 Movie Info
Cameron Hawley's novel of corporate in-fighting and gamesmanship was brought to the screen by producer John Houseman and director Robert Wise, working successfully in the slickest MGM style. When Avery Bullard, the hard-charging president of Tredway, the third-largest furniture maker in the United States, dies suddenly at the end of a business week, it sets off a scramble among the surviving vice presidents to see which of them will succeed him. Among the latter, the best positioned to take the job is Loren Shaw (Fredric March), an ambitious bean-counter-type who is more concerned with the profits that the company generates than the quality of what it produces. Opposing him are Frederick Alderson (Walter Pidgeon), Bullard's longtime right-hand man, and McDonald Walling (William Holden), a forward-thinking idea man brought in by Bullard but never given a wholly free hand (mostly thanks to Shaw). But Alderson's age works against him, as does his seeming lack of leadership -- and Walling is not ready (or so he thinks) to take the president's job, nor does he really want it. Caught in the same dilemma are Walter Dudley (Paul Douglas), the head of sales, who is being quietly blackmailed by Shaw over an affair with his secretary; Jesse Grimm (Dean Jagger), a production man who has always been distrustful of Walling's new ideas; and George Caswell (Louis Calhern), a duplicitous corporate player who will do anything -- including compromise the future of the company -- to protect his own financial position. And possibly holding the balance of power between them is Julia Tredway (Barbara Stanwyck), the daughter of the company's founder (who committed suicide during the Great Depression) and a major shareholder, whose unrequited love for Bullard clouds all of her thinking about the company. And caught in the middle of their struggle -- which literally has a clock ticking, toward the opening of business on Monday morning -- are the thousands of employees of Tredway, represented by a handful of fine character actors, whose jobs and futures hang in the balance over who wins this fight.
News & Interviews for Executive Suite
Critic Reviews for Executive Suite
Audience Reviews for Executive Suite
A great movie about corporate competition, and with great actors too.
Very good 50's corporate drama. Top cast all give fine perfomances. Holden and June Allyson are well matched and Barbara gives her all in her few scenes.
½
When Executive Suite started and the credits rolled off the names that made up the powerhouse cast (finishing with directing credit going to the late, great Robert Wise) I thought I was in for a greatly underrated and overlooked classic. When the end credits rolled I by no stretch of the imagination felt the same way. The first half hour to 45 minutes of Executive Suite started off strong enough but eventually turned into an instructional video about how to helm a hostile takeover. The cast was good enough even if there wasn't nearly enough Barbara Stanwyck. Not enough of my interest was held for me to get the details but by the time William Holden delivered that Rynd-esque speech at the end I didn't really care enough to recommend this movie. But then again my DVR cut off at the very end.
Michael Gildea
Super Reviewer
Executive Suite Quotes
There are no approved quotes yet for this movie.