Exeter
(2015)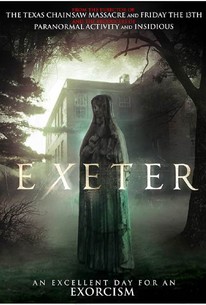 AUDIENCE SCORE
Critic Consensus: No consensus yet.
Movie Info
From the director of The Texas Chainsaw Massacre and producers of Paranormal Activity and Insidious. At an abandoned asylum, six teens tinker with the occult, causing a possession, paranormal mystery and a bloody nightmare that no one could predict.
Critic Reviews for Exeter
All Critics (2) | Top Critics (1) | Fresh (2) | Rotten (0)
a fast-paced genre funride that cleverly compounds (and overtly references) its own clichés only to distract and disorient.
March 2, 2015

Even in the stinkiest puddle, some beauty can be found; you just have to look (and be happy with what you get). [Full Review in Spanish]
Audience Reviews for Exeter
Not what I would call a terrible horror movie. It's actually got some pretty good ideas for a relatively low-budget horror movie. It doesn't have what I would call the most inventive ideas, but it does do a good job in some parts. The film has a sense of humor and there's some legitimately good gore here, like when they chop off half of one of the character's face. That actually looked really cool. Though I do think that the first half of the film, everything leading up to the exorcism and the exorcism itself, feels pretty much completely pointless in the face of the second half. It might've been a considerably shorter movie if there wasn't an actual exorcism, but I'm sure they could've come up with ways to extend the film if they didn't want it to be over too quickly. You could add more characters or whatever. The point is that the exorcism and everything leading to it is completely unnecessary because it accomplishes nothing. Granted, it accomplishes nothing by design, but it feels like I've wasted 30+ minutes of my life watching this part of the film. The demon, or spirit, ends up freed anyway, so what's the fucking point of the exorcism? It's not absolutely essential to the narrative. And that's another thing, while it certainly makes sense in its own context, it's not like it's really that intriguing enough to where you really care to see where the story is actually. Not to mention the fact that they don't do a good enough job at tying the mysterious and troublesome Devon to what is actually happening with the possessions. They do give you a twist where they try to explain everything, but even then, it just feels like retroactively trying to make something fit instead of something that came naturally and organically to the plot. I think I'm being more forgiving on this film than I would've been otherwise because I rented it for free from Redbox. It's certainly not bad in the least. It just doesn't really hold your interest past a certain level. There's some good gore and humor here, the exorcism scene itself, while pointless, is fine. But there's just not nearly enough that's good here to where I'd really recommend this movie You can certainly do worse, but there's nothing about this film that needs to be seen.
Jesse Ortega
Super Reviewer
A film with more titles than thrills, this poor-form of a horror film is unfortunately better than what the majority of the genre is serving up in recent years.
Exeter Quotes
There are no approved quotes yet for this movie.