Existenz
(1999)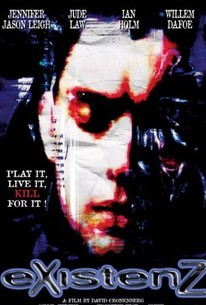 Movie Info
Set in the near-future, eXistenZ depicts a society in which game designers are worshipped as superstars and players can organically enter inside the games. At the center of the story is Allegra Geller whose latest games system eXistenZ taps so deeply into its users fears and desires that it blurs the boundaries between reality and escapism. When fanatics attempt to assassinate Allegra, she is forced to flee. Her sole ally is Ted Pikul (Law), a novice security guard who is sworn to protect her. Persuading Ted into playing the game, Allegra draws them both into a phantasmagoric world where existence ends and eXistenZ begins.
News & Interviews for Existenz
Critic Reviews for Existenz
Audience Reviews for Existenz
½
Built on a gripping atmosphere of mystery, this is an intriguing sci-fi thriller that pulls us deeper and deeper into a highly strange universe that leaves us always curious to know more about - even if after a while it doesn't take us much to see where it is going.
Carlos Magalhães
Super Reviewer
½
It is not easy to guess what is coming in this movie. The premise is interesting - when does a game become so real that you have troubles distinguishing reality and a game. I did not think Cronenberg's version had much thought to it. Whenever the plot got boring, another layer got added.
Released right around the time as that famous mind bender The Matrix, this is David Cronenberg making something of a spiritual sequel to his earlier masterpiece Videodrome. Focusing on video games and virtual reality, this is one of those thriller films that really makes you question what's real and what isn't, constantly blurring the line. I think Total Recall and even Inception did this sort of thing better, but DC gives it the good college try here, and should be commended for it. The plot (I'll try to make it as simple as possible) follows a video game designer who, after an assassination attempt, escapes with her assistant in the world of her latest creation, the titular eXistenZ. What makes this fit into the world of Cronenberg is the trademark mixing of technology with flesh, namely the use of bio ports and umbilical like things for the gaming system, and col gun made out of bones and muscles that uses teeth for ammo. It's all very bizarre, and gross, and creative, like the best of the director's output, but I think this one could have spent more time in the oven. It feels very rough, somewhat under cooked, and filled with good ideas, but suffers overall due to needing to be more fleshed out. I was initially going to critique the acting, but thankfully the film itself addresses this, and I thought it was rather clever. It also is cool that the film has a reason for being really disorienting and confusing, even if the end result isn't completely new or original. It at least scores points for building on the Videodrome concept using other forms of technology, and showing the effect of using this technology even more so. There's a good cast her, and they seem to be having a lot of fun. The effects are quite good too, and really deliver the goods when it comes to being gross and uncomfortable. All in all, this is not for everyone, and, while it doesn't fully come together, I do have to give it some points for trying, and it at least kept me engaged and questioning things (in a good way).
Chris Weber
Super Reviewer
Existenz Quotes
There are no approved quotes yet for this movie.