Exit Wounds
(2001)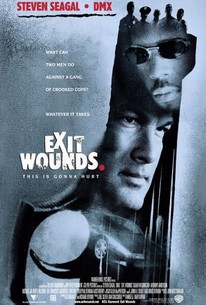 TOMATOMETER
AUDIENCE SCORE
Critic Consensus: It probably goes without saying that Exit Wounds is loaded with plotholes and bad dialogue. Critics also note that Seagal has aged rather badly.
Movie Info
Returning to his action feature terrain after a short hiatus, Steven Seagal plays Orin Boyd, a maverick Detroit detective with an unconventional way of taking down foes. After a failed intervention in a terrorist kidnapping case that humiliates his superiors, Boyd -- who is hailed as a top-drawer investigator but frowned upon for his tactics -- is forced to do time in a tough downtown precinct. After discovering the covert drug operation performed by several corrupt cops at his new assignment, he decides to break the rules yet again. While the cops are planning a massive heroin deal with big-time gangster Latrell Walker (DMX), Boyd finds that Latrell is not who he once was, and Boyd persuades him to assist in bringing an end to the amoral police influence that helped ruin him. Exit Wounds is the second film from cinematographer-turned-director Andrzej Bartkowiak (Romeo Must Die) and also features Tom Arnold, Isaiah Washington, and Jill Hennessy.
News & Interviews for Exit Wounds
Critic Reviews for Exit Wounds
Audience Reviews for Exit Wounds
Exit Wounds' action sequences are somewhat impractical and, though entertaining in a way, cannot salvage the film's sloppily-written story, ineffective chemistry or cheesy dialogue. 2/5
Eugene Bernabe
Super Reviewer
½
Seagal plays he usual style role of a renegade cop with no respect for authority. DMX is a gangster with whom Seagal teams up with to find out who has stolen fifty kilos of heroin from the vaults of a Detroit police vault. The teaming up of a hard cop and a hard gangster in a different take on the buddy cop genre was a nice idea, but it raises too many plot flaws and the duo don't have the comedy timing to make it work well. Exit Wounds does entertain with it's action and thrills, but its ultimately forgettable.
Cassandra Maples
Super Reviewer
Doesn't stand out like it should in the overpopulated world of Seagal films and perhaps only got the audience and attention it got because it had the then-redhot DMX co-starring in it, whom I have a hard time believing could kick Seagal's ass in a fight, much less stand toe-to-toe with him. Has a good cast that would've given this film a higher rating, but I took a half a star off for having the Law & Order-killing Anthony Anderson in it (Just kidding about the star part, but not about Anderson).
Derek Daniels
Super Reviewer
Exit Wounds Quotes
There are no approved quotes yet for this movie.