Exorcist II: The Heretic
(1977)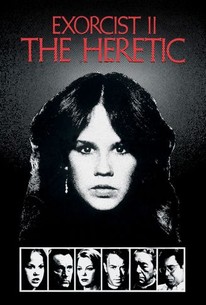 Exorcist II: The Heretic Photos
Movie Info
Four years after her bout of demonic possession, Regan MacNeil seems at peace as she enjoys a privileged but lonely adolescence. Her actress mother, absent on-location, leaves her in the care of her childhood nanny, Sharon, who feels inextricably bound to her young charge despite the terror she endured during the girl's possession. Regan attends frequent counseling sessions with Dr. Gene Tuskin, an unorthodox psychologist who believes Regan remembers more of her ordeal than she admits. Meanwhile, Father Lamont, a protégé of the priest who died exorcising Regan, is called to investigate the death of his mentor. The Church is divided over the teachings of Father Merrin and wants to gather documentation of his views about demonic existence. Father Lamont himself is conflicted -- haunted by images of a possessed woman he could not save. As he and Dr. Tuskin become convinced that the demon still exhibits a hold on Regan, the priest sojourns to Africa in search of Kokuma, who as a boy was possessed by the same demon and exorcised by Father Merrin. Learning the true name and ancient origins of his supernatural foe, Lamont returns to America to stage a climactic battle for Regan's soul.
Critic Reviews for Exorcist II: The Heretic
Audience Reviews for Exorcist II: The Heretic
Can any priest actually be solid and resolute in their faith or must there always been an internal turmoil over God? The first signpost of malaise and ineptitude in the pitiful 'Exorcist II: The Heretic' is the superimposition of a possessed South American girl in flames and it is unintentionally laughable. Then the drivel shifts to Regan (Linda Blair) who has blossomed into a buxom ingénue off- Broadway and it's queasy to view Blair in the sexy prima donna context. Denials from the Catholic Church are commonplace nowadays so the fact that the Cardinal reevaluates his position on Satan as a corporeal entity is fathomable. The sleepy tone extends to the clash between modern hypnotherapy and devout piety. The "synchronizer" sequence is an incomprehensible jumble of nonsensical rhetoric, hammy, trance-like reaction shots from Richard Burton and Louise Fletcher and an excruciating recreation of Merrin's battle with Pazuzu. A biblical swarm of locusts in Africa and Regan's psychic abilities suborn more narrative incongruity than unnerving terror. Retconning Regan with an ESP slant is arbitrary and monumentally doltish (ex. Her conversation with Sandra, a stuttering autistic patient, is the height of hilarity). A Jesuit priest plummeting from a Cliffside is such flagrant wirework that he seems to be sailing on a hang glider. Most of the dawdling scenes of Burton's investigation in Africa are transparently filmed against a matte painting. Perhaps though, James Earl Jones in a locust costume is the official jumping-the-shark moment. This is the worst second chapter of a horror blockbuster outside of 'Blair Witch 2: Book of Shadows'. Even on its own wobbly structure (along with an Atari-esque midi theme), 'Exorcist II' is a toothlessly unmitigated fiasco that desecrates the memory of the Academy Award-nominated original.
Cory Taylor
Super Reviewer
What's wrong with this movie? (spoilers to follow) 1) Nurse Ratched's fantastic new psychiatric device are two strobe lights. 2) Linda Blair fondles Louis Flecther's breast. 3) Richard Burton appears to be looking for the bar. 4) The fact that the church sends Merrin to exorcise Regan in the first film, but he is suddenly a heretic in this one. 5) Wasn't there a Father Karras in the first one somewhere? 6) Apparently Regan's mom is more concerned with her career and dumps off her daughter on the first shrink with strobe lights she could find. 7) Balconies with partial rails for falling and fake falling. 8) Locust documentary footage. 9) The fact that the only plot point that actually made sense was Regan's tap dance recital. 10) Gratuitous Ned Beatty cameo. 11) Richard Burton's shirt during the last twenty minutes. 12) James Earl Jones spitting cherry tomatoes at Richard Burton. 13) The fact that ENNIO MORRICONE scored this piece of shit. 14) The fact that not only does a taxi cab crash through a wrought iron and brick fence, a woman catches on fire, and a portion of the house implodes no one in the entire block comes out to see what the hell is going on even though there are numerous lights on throughout the neighborhood until... 15) Richard Burton and Regan leave, stumbling in the wreckage of the house, then suddenly three thousand people show up asking Louis Flecther if she's OK while there's a charred corpse on the front stoop of the neighbor's house. 16) A stainless steel bird house.
Chris Garman
Super Reviewer
Awful follow-up to The Exorcist. The film lacks anything that would make this a worthwhile follow-up to one of the greatest classics in horror history. However due to a poor plot, and very poor directing, this sequel doesn't do the original justice whatsoever. What we have here in this sequel is a poor attempt at trying to outdo the original. Unfortunately for this film nothing works. The scares are bland and the acting is boring, uninspired and overall not effective. Considering the cast involved, you'd expect this film to be at least watchable. However due to a bad script, sloppy acting and directing, this is one pointless sequel, one that doesn't deliver the jolts you'd expect. As a fan of The Exorcist, I was very much disappointed with film, and felt it was horrible. Only Exorcist: The Beginning was worst than this. This is a poor horror that I can't recommend to any fans of the genre. As a matter of fact this is one of the worst sequels in a horror franchise and there's absolutely nothing to enjoy about this film. If you've loved The Exorcist, you should pass up on this one, there's nothing to enjoy and the scares are almost nonexistent. They could have done something good here, but the film feels rushed, and unfocused throughout. The Heretic is honestly one of the worst horror sequel in the genre, and if you watch it, you'll understand why.
Exorcist II: The Heretic Quotes
| | |
| --- | --- |
| Regan MacNeil: | There's notting wrong with me. |
| | |
| --- | --- |
| Kokumo: | If Pazuzu comes for you I will spit a leopard. |