Exotica
(1994)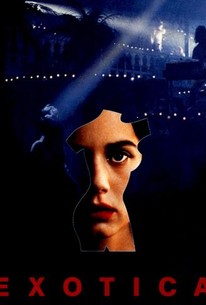 Movie Info
The action in this film revolves largely around the Exotica strip club, a faux-tropical hothouse where young female dancers cater to their customers' sexual and psychological needs. As the film hypnotically unfolds, the relationship between troubled taxman Francis and young stripper Christina is slowly explored.
Critic Reviews for Exotica
Audience Reviews for Exotica
You have to watch this movie more than once to even vaguely understand it.
One of Atom Egoyan's best and one of the best interconnected stories I have seen. The very last scene sums up my feelings for this picture. A true compelling masterpiece. A moody, psychological study of one man's all-consuming guilt and obsessions. Francis(Bruce Greenwood), a tax accountant whose wife and child have both died, finds himself irresistibly drawn to a local strip joint known as "Exotica". Every night he goes there to gaze upon Christina(Mia Kirshner), a friend of his deceased daughter whose performance consists of shedding the little-girl costume she wears onstage. But the dancer's ex-boyfriend, disturbed by Francis's creepy presence, demands that he stay away from both the club and the young woman. Francis hires a friend to keep an eye on Christina and report all her doings to him. However, he still cannot accept the loss of his child nor keep his mind off Christina. It's almost as if only death and Christina's fall from grace sustain him. One of the main reasons why Egoyan film is so great is how these characters connect with one another in more ways then one. I was asking myself "who is this person?, why is Francis filled with anger whenever he is around Harold?, why is Francis paying the Sarah Polley character for babysitting when she is alone playing the piano alone?" and on and on and on. The best scene takes place when Francis and Thomas (Don McKeller) recap about the murder of Francis's wife and daughter. This explains why Francis goes to the Exotica strip club to talk with Christina. It also explains that Francis was on to Thomas for illegally smuggling eggs into Canada. Everything fits together and in a way I never really expected. This is a great film.
Strong, original, tightly wound.
Joey Nevarez
Super Reviewer
Exotica Quotes
| | |
| --- | --- |
| Francis: | You're a very responsible young women. |
| Christina: | Responsible to what? |
| Francis: | To whatever it is you feel you must do. |
| Christina: | Like what? |
| | |
| --- | --- |
| Eric: | "Don't be afraid, I know everything about you." |
| Eric: | Don't be afraid, I know everything about you. |
| Francis: | "What do you know about me?" |
| Francis: | What do you know about me? |
| Eric: | "I found her." |
| Eric: | I found her. |