Experiment in Terror
(1962)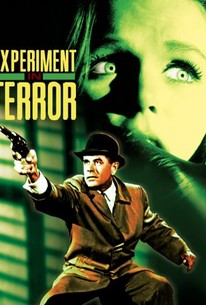 Experiment in Terror Photos
Movie Info
John Ripley (Glenn Ford) is the FBI agent called in to investigate a bank robbery that appears to be an inside job. Kelly (Lee Remick) is the terrified bank clerk who confides in Ripley when the sadistic mastermind of the crime threatens to kill her and her sister if she doesn't steal $100,000. Ripley's efforts are hampered by the fact that criminal Red Lunch (Ross Martin) is a master of disguise. In the gripping climax, Red is chased to Candlestick Park, where he blends into a capacity crowd watching the Giants fight for the National League pennant.
News & Interviews for Experiment in Terror
Critic Reviews for Experiment in Terror
Audience Reviews for Experiment in Terror
Blake Edwards' taut-suspense classic about a beautiful bank clerk, played wonderfully by Lee Remick who is terrorized by a murderous asthmatic-voiced extortionist, chilling played by Ross Martin, that is planing to use her to steal a $100,000 from the bank where she works. An FBI agent, superbly played by Glenn Ford, that Remick managed to contact is now aiding her in trying to apprehended the psychotic Martin who has threaten to kill her and her young sister. Exceptional direction by Edwards, who gives his thriller some serious edge-of-your-seat moments. Solid, convincing supporting performances by Stefanie Powers, Roy Poole, Ned Glass, and Aita Loo. Glorious black & white cinematography by Phillip H. Lathrop, and a great Henry Manicini score. A realistic and compelling motion picture thriller. Highly Recommended.
Danny Rovira
Super Reviewer
½
like a bridge between film noir detective stories and the modern thriller, this really was an experiment on the part of blake edwards, much better known for his light comedies. made immediately after the charming if over-rated breakfast at tiffany's, the film pioneered techniques used to great effect by depalma among others in the 80's. it looks a little dated now but this is a solid and influential piece of work
Stella Dallas
Super Reviewer
Unfortunately, Experiment in Terror was one of those pesky "those who don't remember the past are condemned to repeat it" moments for me when I let high expectations ruin this movie for me. I heard David Lynch's name thrown around a lot when being told and reading about this movie. That alone wrote Experiment in Terror's death certificate. Its one of the very last noir movies so it's one of the last of its kind from that era. It starts off with sharp imagery and a score to go nuts over by Henry Mancini. It started great, started nodding off toward the middle, then eventually started snoring pretty damn loud be the end. Its definitely not bad and I can see even a small influence it had on Lynch, but its definitely not worth busting your balls over to get a copy of. Impress a film teacher with it, I don't know.
Michael Gildea
Super Reviewer
Experiment in Terror Quotes