Explorers
(1985)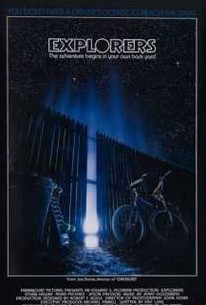 TOMATOMETER
AUDIENCE SCORE
Critic Consensus: With a terrific young cast (including Ethan Hawke and River Phoenix) and some typically energetic work from director Joe Dante, Explorers soars past its '80s kiddie flick competitors with wit, good-looking effects, and tons of charm.
Movie Info
Filled with classic Industrial Light & Magic special effects, Explorers is an adventure for the whole family. The story centers on a trio of boys who adore science fiction and dream of traveling to space. One of them is a computer whiz and it is he who gives them the chance to go on the outerspace adventures of a lifetime.
News & Interviews for Explorers
Critic Reviews for Explorers
Audience Reviews for Explorers
The first half of this kids Sci-Fi adventure breathes a similar 80s atmosphere as E.T. or the Goonies. There are also some pretty groundbreaking computer Graphics for the time. It also showcases how talented Ethan Hawke was at a young age already. Once our three explorers get into the ship, the 33 years since release are showing. The production design looks cheap and Play-Do like, the butt-ugly aliens talking in TV quotes is a nice gimmick that soon gets tiresome.
Ben Crandall: We come in peace. "The adventure begins in your own back yard." Explorers is a pretty good little sci-fi children's movie, and like most Joe Dante films; it has a feeling of nostalgia all over it. The movie has its problems, but nonetheless it was a nice little watch. Most of the problems come in the second part of the movie. The first half of the movie is great though.  Three friends come together to try to create a spaceship after one of the boys has a crazy dream. They soon find out that the things from his dream works and that they have created a spaceship. After a test run where they take it out for a spin around town, they decide to work out the bugs and go looking for whatever it is that is relaying these ideas to them. The first half is mostly the kids figuring out how to make this thing work, and it's extremely well done. The second half is where they actually try to go into space, and this doesn't quite work as well as it needed to. It's an interesting movie by all means, especially with young actors that would go onto do bigger and better things like Ethan Hawke and River Phoenix. Phoenix shows of his prodigy skills with a phenomenal performance, and the movie is worth a look if only for Phoenix himself.  Explorers is one to watch when you want a movie that reminds you of being a kid. I didn't expect anything to spectacular as I've noticed that most of Dante's films are missing a key ingredient that would make them more than just slightly above average. In this one, that missing ingredient is the space sequence. The aliens were lame and overall the whole space sequence was just dull. Still, the first half and the cast more then make up for it.
Melvin White
Super Reviewer
Another classic kids flick from a time when imagination seemed to flow like a waterfall, made a year before 'Flight of the Navigator' and along the same kind of lines but much more wild with a stronger fantasy element. The direction from Dante is spot on giving this film a pure family feel which anyone can enjoy whilst the plot is simple yet also has some thought involved with the creation of the kids homemade ship and how they get it to fly. Visuals for the time were slick and colourful with an air of mystic as allot of the action is during the night, the classic look and feel of the 80's gives this film such a charm much like many other fantasy films of the age, 'E.T.' being a good example. These days of course the effects do look dated but they still do their job and will thrill young viewers as I'm sure the wacky, zany aliens will too. Off the wall and a mix of 'Max Headroom' with 'Pee Wee Herman' and you have the fun creations in full bodysuits that are obvious yet at the same time great fun to watch (like many 'Star Wars' creatures). Personally I always found 'Flight of the Navigator' more enjoyable than 'Explorers' as it was alittle more sensible in general and really did make me wanna travel in space as the navigator hehe. 'Explorers' was always great fun to watch as the plot builds but I was always kinda disappointed at how the aliens were handled, nice idea to make them kids but I thought they should of been more grounded to give the ending alittle more heart perhaps. Think 'Goonies' in space ;)
Phil Hubbs
Super Reviewer
Explorers Quotes
| | |
| --- | --- |
| Ben Crandall: | If this is all a dream, what's gonna happen when we wake up? |
| Wolfgang Muller: | I don't know, but I can't wait to find out. |