Extraction
(2015)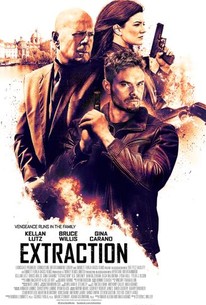 Movie Info
When a terrorist group kidnaps retired CIA field operative Leonard Turner, his son Harry Turner, a government analyst who has been repeatedly turned down for field service, launches his own unsanctioned rescue operation. While evading highly skilled operatives, deadly assassins, and international terrorists, Harry finally puts his combat training to the test in a high stakes mission to find his father and to stop a terrorist plot.
News & Interviews for Extraction
Critic Reviews for Extraction
Audience Reviews for Extraction
Generic tripe, Extraction is a standard, by-the-numbers spy thriller. The story follows CIA agent Harry Turner, who must go rogue in order to save his father after he's captured during an operation gone wrong. Starring Kellan Lutz, Gina Carano, D.B. Sweeney, and Bruce Willis, the cast isn't that bad; their performances however, are terrible. And the writing is incredibly poor; full of stereotypical characters and lame tropes. Yet the fast pacing brings some energy to the film, and the score does a good job at creating tension and suspense. Still, Extraction is painfully formulaic and their no fun to any of the action.
Dann Michalski
Super Reviewer
Typical and formulaic, chances are people will watch this just because it has Bruce Willis and nothing more. His performance is nothing special either which says it all about this movie.
Ian Walker
Super Reviewer