Extreme Days
(2001)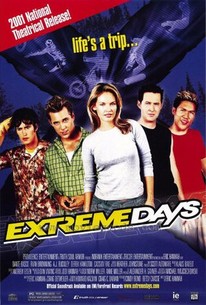 Movie Info
Four guys out for the time of their lives undergo a spiritual transformation in this youth-oriented drama. Matt (Derek Hamilton), Corey (Dante Brasco), Brian (Ryan Browning), and his brother Will (A.J. Buckley) are four close friends who share an enthusiasm for extreme sports such as skateboarding, snowboarding, motocross, and surfing. All four have recently graduated from college and still haven't decided what they want to do with their lives; figuring it may be their last chance to pick up and go without any obligations, the four load up their gear into a beat-up car and set out for a road trip up the West Coast, first heading to Mexico and then making their way up to Seattle -- or as far as their few hundred bucks will carry them. En route to Washington, the boys meet Jessie (Cassidy Rae), a pretty young woman who has found herself unexpectedly stranded and needs a ride to Seattle. Brian is immediately taken with Jessie and offers to let her ride along with him, but he and the other guys soon discover that Jessie is a bit different than the other girls they've known, and as the five head north, they learn some unexpected lessons about life and where they fit into the world. Extreme Days marked the feature film debut for director Eric Hannah, who previously directed the Moment of Truth extreme video series; the theme song was performed and co-written by Toby McKeehan from the popular Christian rock group DC Talk.
Critic Reviews for Extreme Days
All Critics (7) | Top Critics (2) | Fresh (3) | Rotten (4) | DVD (2)
Extreme sports ... have rarely been as markedly unexciting as they are in this road trip through mediocrity.
Watching ESPN's X Games on the small screen is more thrilling.
October 4, 2001
Audience Reviews for Extreme Days
½
Maybe it is because my youth pastor is obsessed with this movie and as such has to show it to us about every five minutes, but I don't like this movie very much. the plot is decent but the script sucks and the acting is not that great. it is a totally entertaining film (albeit not after watching it 200 times) but after having seen it so many times I really get a feel for what's wrong with it. some parts just flat out bore me. plus, during the extreme sports parts like the surfing and the dirt biking and the snowboarding, they are trying to pass it off as the actors themselves doing the stunts but you can totally see that it is not them. it is a good movie for relaxing and shutting off your brain. other then that the film has no merits at all.
Lord Naseby
Super Reviewer
some really funny parts but the sports scenes were edited in terribly
this is a great movie with lots of loveable characters. matt is great.
Thomas Bowler
Super Reviewer
Extreme Days Quotes
There are no approved quotes yet for this movie.