Extreme Prejudice
(1987)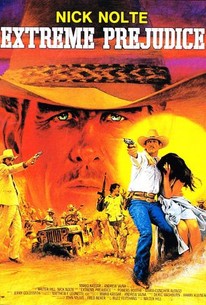 Movie Info
Walter Hill's modern western stars Nick Nolte as a Texas Ranger in pursuit of Powers Boothe, an infamous drug czar who was once Nolte's best friend.
Critic Reviews for Extreme Prejudice
Audience Reviews for Extreme Prejudice
Terrific dated action feast from Walter Hill that clearly shows early ideas for his other action feasts and also kinda reminded me of an early 'Expendables' type film. The cast in this is pretty awesome in terms of characters actors, Nolte, Ironside, Torn, Powers Boothe, Maria Conchita Alonso, Clancy Brown, William Forsythe, Marco Rodríguez, Mickey Jones and Tommy 'Tiny' Lister...oddly. Its basically a big build up to a big shoot em up at the finale between everyone with double cross and bullets flying everywhere, very over the top and so very very 80's, lovely. Nothing much to explain really, if you like loud action flicks with plenty of henchmen getting shot in slow motion then this is for you baby, Nolte is gruff and miserable, Ironside is evil and slimy whilst Forsythe is like a hurricane with profanity filled fast dialog. Love how in these films everyone seems to get shot in the shoulder or just below, doesn't matter how many times they get shot or the range its always the shoulder area, brilliant!.
Phil Hubbs
Super Reviewer
The Wild Bunch meets No Country for Old Men as directed by Walter Hill? Yes PLEASE! Also including the awesome cast of Powers Boothe, Michael Ironside, Rip Torn, Clancy Brown, William Forsythe and Nick Nolte (before he went all crazy). Did I mention it's co-written by John Milius?
Ken Stachnik
Super Reviewer
How the hell I missed this in the 80's I'll never know or forgive myself for. This is old school action-drama when it was done right with excellent performances from Nolte, Powers Booth and Clancey Brown.
A.D. Villarreal
Super Reviewer
Extreme Prejudice Quotes
There are no approved quotes yet for this movie.