The Eye 2 (Gin gwai 2)
(2004)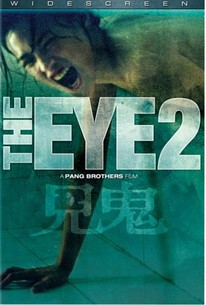 AUDIENCE SCORE
Critic Consensus: No consensus yet.
Movie Info
Visionary Asian horror directors the Pang Brothers offer another disconcerting look at the spirits of the dead in this sequel to their international hit The Eye. Joey Cheng (Shu Qi) is a woman who has been given to deep mood swings, which isn't helped by the fact her relationship with her boyfriend, Sam (Jesdaporn Pholdee), is crumbling. In a moment of despair, Joey takes an overdose of sleeping pills in an apparent suicide attempt. Joey survives the incident, but discovers that she's pregnant with Sam's child, putting her in another difficult situation. Joey decides to keep the baby, but she soon discovers another strange side effect of her brush with death -- she can now see ghosts, especially when she's in the presence of children and pregnant women, and is frequently haunted by the spirit of a women attempting to kill herself near a railroad track. As the ghost begins visiting more and more often, Joey becomes convinced the spirit wants to enter the body of her unborn child. ~ Mark Deming, Rovi
Cast
Critic Reviews for The Eye 2 (Gin gwai 2)
Audience Reviews for The Eye 2 (Gin gwai 2)
½
An interesting concept and some truly eerie images and scenes but parts of it were just bordering on the ridiculous when I don't think that was the intent. Really too bad because I was quite into it for the first little while but it just completely fell apart.
Laura Cameron
Super Reviewer
½
more like the viewer goes mad trying to make sense or enjoy this movie. Cheap shocks and an incoherent script, at least you have Shu Qi to look at.
½
Directed by: The Pang Brothers. Starring: Qi Shu, Eugenia Yuan, Jesdaporn Pholdee. It's a film that took me a long time to really respect and like, once I had seen how amazingly scary 'The Eye' was, I was expecting something in the same tone with 'The Eye 2', but that isn't the case. But I decided to watch it again and although I still have some problems with the film, I saw the film for what it is. The story follows a depressed woman who has just broken up with her boyfriend and attempts to commit suicide, but she leaves a note so that she can be revived so that she can start fresh. On the verge of death she starts to see ghosts and once she is rushed to hospital and has her stomach pumped (overdose), she realizes that she is pregnant and this starts her off seeing ghosts everywhere she turns....but why around pregnant women? It focuses a lot more on narrative rather than chills, the story is easily compelling to me as it is something that I believe in and something that thoroughly interests me. The Pang Brothers don't seem to quite grasp the concept in the first part of the film but thankfully pick up before it is too late and they focus on the emotion and the characters. In the way of what they offered in 'The Eye', the tension isn't always there, nor is it as chilling, but they do offer some amazing imagery that relates to the story and some small shocking moments. Shu Qi is certainly no Angelica Lee, but she proves herself well and provides a great performance of considerable range. I love the fact that the film aims for something different and goes in that direction rather then repeating itself (which is something where Hollywood sequels fail) and I'm glad it focused on the narrative and had an amazing story to back it up with intriguing ideas....but I guess I had hoped for what the Pang Brothers had done with there first film. Still a movie many will miss, but it should be seen....just don't expect something like the first film.
Craig Sutcliffe
Super Reviewer
The Eye 2 (Gin gwai 2) Quotes
There are no approved quotes yet for this movie.