Eye for an Eye
(1996)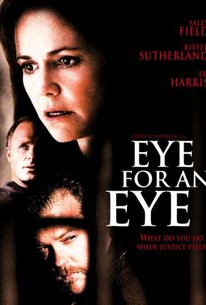 TOMATOMETER
AUDIENCE SCORE
Critic Consensus: Overwrought, thinly written, and all-around unpleasant, Eye for an Eye crudely exploits every parent's nightmare with deeply offensive results.
Movie Info
In this taut crime melodrama, bereaved mother Karen McCann becomes obsessed with getting revenge upon the acquitted psychopath who raped and murdered her teenage daughter. When the man kills again, Karen joins a support group and realizes that some of the other parents have taken justice into their own hands.
Critic Reviews for Eye for an Eye
Audience Reviews for Eye for an Eye
Outdated & by all means an avoidable flick.
familiar stranger
Super Reviewer
½
Decent, but flawed thriller, Eye for an Eye could have been much better than what it turned out to be. The script has a good idea for a plot, but it definitely could have used a few rewrites because the finished the film seems to struggle in delivering great thrills. There things that I liked about the film, but overall I felt that the film had too much wasted potential on-screen. Kiefer Sutherland is a great villain in the film, and his performance makes the film worth watching despite its flaws. Director John Schlesinger could have done a bit better and considering that this is a revenge thriller, the way the film could have ended up could have turned out so much better if the script was better written, and some parts would have been rewritten. Eye for an Eye is a prime example of a decent flick that could have been much better, but ended up of falling flat of its mark. This is not a bad film, but it could have been so much better. The strength of the film lies in Sutherland's performance. As a whole this is an entertaining flick that I liked somewhat, but I did feel that it could have been much better than what it turned out to be. If you want a mindless, somewhat predictable thriller, then give this film a shot. However keep your expectations low on this one as it doesn't try to do anything creative to elevate the boundaries of the genre. Enjoyable, but flawed, Eye for an Eye is the type of film that you watch on a rainy night when there's nothing else better to do.
I expected more from the director of Midnight Cowboy, Makes a few fair points but overall disappointing
Eye for an Eye Quotes
There are no approved quotes yet for this movie.