Eye of the Needle
(1981)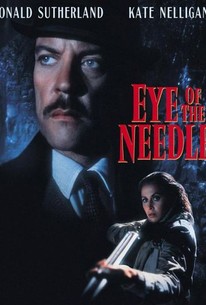 Movie Info
Eye of the Needle is a engrossing, old-fashioned WWII spy thriller with a romantic subplot. Faber, (Donald Sutherland) is a Nazi spy stationed in Britain who uncovers the Allies' plans to invade Normandy. His cover is blown when his landlady catches him using a shortwave radio and he is forced to kill her. Trusting no one, her murders several people as he flees, trying to escape from Britain and pass on his information to his Nazi superiors. Faber steals a fishing boat intending to rendezvous with a U-boat at a remote island. However, the boat sinks during a violent storm and Faber is stranded and forced to seek shelter with Lucy (Kate Nelligan), the lonely, sexually frustrated wife of a paraplegic ex-fighter pilot (Christopher Cazenove). A love affair between Lucy and Faber complicates his plans and the film draws to an dramatic, surprising climax as Lucy discovers Faber's true identity. Directed with considerable flair by Richard Marquand, this adaptation of Ken Follett's best-selling novel the film is both an effective thriller and a touching, highly erotic love story. The sexual encounters between Lucy and Faber are sensual, beautifully photographed and romantic. Eye of the Needle also includes one of Sutherland's best performances cold-blooded spy who who falls in love. Kate Nelligan is beautiful and touchingly vulnerable as a woman in love who has faced a difficult and lonely life with determination and resourcefulness.
Critic Reviews for Eye of the Needle
Audience Reviews for Eye of the Needle
½
Claustrophic and taut espionage tale with an impressive second half and overall enormously benefited by a good measure of romanticism, both in its coastal setting and in its musical score, courtesy of the great Miklos Rozsa, who would sadly go into retirement soon after.
Pierluigi Puccini
Super Reviewer
½
Eye of the Needle is a well constructed, entertaining dramatic thriller with a great cast. Donald Sutherland plays a German spy who has vital information on D Day, and he is trying to get out of Britain. The film keeps you engaged from start to finish and the cast do a fine job in their performances. Director Richard Marquand crafts a terrific film that has a wonderful story, and should appeal to any movie fan. This is enjoyable entertainment for what it is and it manages to be an effective thriller, one that is very memorable. At times the film has weak points, but there's enough good material presented on-screen to make this one worth seeing. I really enjoyed the film, and this is among the best thrillers of the early 1980's. With a great plot, good cast and constant thrills, director Marquand overcomes the film's weaknesses to convey a film that no viewer will soon forget. Richard Marquand would go on to conclude the Star Wars trilogy with Return of the Jedi, but we see hints of a great director who knows how to keep his viewers satisfied and interested. Eye of the Needle is a well crafted film, one that will appeal to genre fans and to other viewers looking for a well constructed, well acted picture. I've seen many films with Donald Sutherland, and The Eye of the Needle is one of his best films that I have seen due to his on-screen presence and his well written character. The film could have been reworked slightly, but most of the time, it succeeds at being a terrific film that in my opinion is a must see due to its plot, acting and effective directing. I found this film to be quite underrated and it's far better than what most critics have said about it.
Classic spy movie of ww2 based in a classic book by Ken Folett.
Andre Tavares Simoni
Super Reviewer
Eye of the Needle Quotes
There are no approved quotes yet for this movie.