Eyes of Laura Mars
(1978)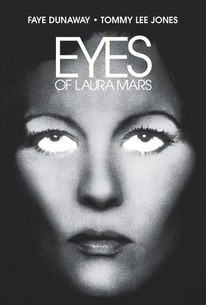 TOMATOMETER
AUDIENCE SCORE
Critic Consensus: Eyes of Laura Mars hints at interesting possibilities, but they're frittered away by a predictable story that settles for superficial thrills.
Eyes of Laura Mars Photos
Movie Info
Eyes of Laura Mars has an intriguing premise -- which, alas, is abandoned halfway through in favor of gratuitous violence. The title character, played by Faye Dunaway, is a high-priced fashion photographer, specializing in gory "murder" layouts. When Laura is plagued by visions of genuine murders, she at first dismisses this as a by-product of her kinky specialty. And then she begins telepathically witnessing the bloody killings of her friends and co-workers, as seen through the eyes of the actual killer. Anyone who can't guess who the murderer is within five minutes deserves to be drummed out of the theatre in disgrace. Tommy Lee Jones does what he can with an underdeveloped role, while Rene Auberjonois steals the film as a belligerently flamboyant homosexual. Watch for talk-show host Bill Boggs and future LA Law star Michael Tucker in minor roles.
Critic Reviews for Eyes of Laura Mars
Audience Reviews for Eyes of Laura Mars
One of the great American giallos, Eyes of Laura Mars is an unsung little thriller masterpiece. Very little gore and violence is actually seen taking place, but the score makes it a hell of a lot more thrilling than violent content could. I can't believe I've gone all of these years without seeing this gem. I don't want to brag and say I knew who the killer was right from the beginning, but I kind of did. I just knew there was something very off-kilter about a certain character (those who have seen it will know who I mean). Very Argento-esque, it reminded me a lot of Opera and Suspiria. A truly underrated classic of the genre, to be sure.
Tim Salmons
Super Reviewer
½
So, I got to see this movie again yesterday. It's very interesting how Laura has psychic powers, yet doesn't know who the killer is till the end, but then the ending is cliche. Overall, it's pretty good, but it could be better.
A great film but I was sad at the end when Tommy Lee Jones (John Neville) was the killer. Worth a watch & a classic 70s film :)
Cassie Hill
Super Reviewer
Eyes of Laura Mars Quotes
There are no approved quotes yet for this movie.