Eyes Without a Face
(1962)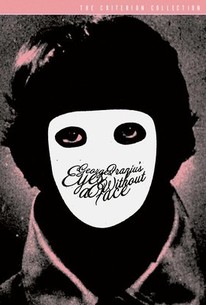 TOMATOMETER
AUDIENCE SCORE
Critic Consensus: A horrific tale of guilt and obsession, Eyes Without a Face is just as chilling and poetic today as it was when it was first released.
Eyes Without a Face Photos
Movie Info
A brilliant but crazed surgeon resorts to horrifying measures to restore the beauty of his daughter's disfigured face.
News & Interviews for Eyes Without a Face
Critic Reviews for Eyes Without a Face
Audience Reviews for Eyes Without a Face
½
With a haunting score and a disturbing plot, this film can be quite anguishing sometimes, especially in an infamous heterografting operation scene, working pretty well despite its flaws (like the police coming up with a stupid plan that makes no sense once you think about it).
Carlos Magalhães
Super Reviewer
½
This is probably the earliest representation of gruesome horror on film, evident from the subject matter, the creepy visual effect of Christiane wearing her mask, and the ritualistic killings of the doctor, though he thinks he is doing right. This is an essential film for horror fans who want to see the early days of this genre. The costuming, the mask, and the setting of the unpopulated countryside manor and institute, make for a great backdrop for the story. It's also an interesting film to watch when it comes to the dynamic between the father and his daughter: he only sees her when she is whole, unmarred by the tragic accident he caused. He constantly says he feels guilty for disfiguring her, but really he needs things to be perfect because he is used to perfecting people at his clinic. She is the one disfigured, but he is the one who is truly ill. There's a level of control and villainy that is complex and untethered from modern horror conventions. There are some great, frightening visuals, especially of Christiane's face as it decays. The ending is the least likable aspect of the story, because it's so anticlimactic and strange. What does it symbolize? How does Christiane feel about her fate? Beautiful in a very frightening way, this is a classic in many respects, and worth watching.
Spencer S.
Super Reviewer
Brilliant and stunning Foreign Horror film brilliantly directed by Georges Franju, Eyes Without a Face is a unique film in the genre. Beautifully filmed an acted, this is one of the most powerful genre films in the medium. Using images to create its terror as it is a very subtle film that manages to truly terrify the viewer with atmosphere, and the fear of what is transpiring what keeps you involved from start to finish. The cast is phenomenal and the lead actress, Edith Scob delivers a powerful performance in the role Christiane Génessierm, the daughter of a mad doctor who is deformed and whose father captures young women to find a perfect face for his daughter. The film may seem tame by today's standards, but at the time of its release, the film was ahead of its time. This is horror the way it should be. Franju direction is immaculate, and his eye for creating a truly memorable and engaging horror film is unmatched. Eyes Without a Face is a flawless picture that is both beautiful and shocking all at once. The images that befall upon you are haunting, disturbing and unforgettable. Eyes Without a Face is a brilliant picture that tells a subtle, yet horrifying story that will certainly appeal to viewers looking for a truly well executed picture that uses the bare necessities to create terrific terror. The result here is a truly disturbing, yet brilliant affair that is among the finest horror films ever made. If you get a chance at seeing this iconic film, you'll glad you did. Using horror basics, Franju was able to make a film that has much more impact on the viewer than many of the horror films released today.
Eyes Without a Face Quotes
There are no approved quotes yet for this movie.