Faces
(1968)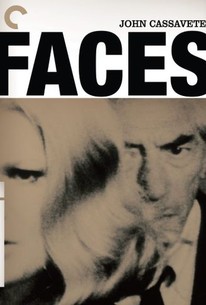 AUDIENCE SCORE
Critic Consensus: Director John Cassavetes forgoes conventional style in this hard-bitten examination of a marriage, letting his actors tell the story through dialogue and their Faces to refreshing effect.
Movie Info
A married couple of 14 years has an argument which leads to a brief estrangement. Richard leaves his sexually unresponsive wife Maria to cavort with a prostitute. Maria and three of her married female friends then go out and pick up a male prostitute for their own entertainment pleasure.
Audience Reviews for Faces
Cassavetes' first endeavor into the world of marriage, with his second feature film, yielded a humane glimpse into the lives of two impossibly unhappy people who think they understand happiness. The husband believes he understands that a fourteen year marriage, security, and repetition makes for an unhappy person, and so he leaves his wife in the middle of the night to fall into the arms of a younger woman. The wife believes she is happy already, and though shocked by her husband's request, knows to find it elsewhere while she still can. Both of them journey back into the night to find people to give them their satisfaction, their happiness, but sadly they both find that the crumbling of a decade long marriage does not relinquish them from one another. What comes of the wide scope and interesting subject matter covered, is a film that speaks about how uncomfortable we all are when we're placed in our separate boxes, and how happiness is relative and finite. The camera follows each of them as they find others to spend the night with. Richard (Marley) falls back in with a group of people who think they're completely different than anyone else, and have found happiness in greed, sex, and wealth. Jeannie (Rapp) finds appeal in alcohol, being out with other women, and youth. Both husband and wife believe that being with someone younger predicates happiness, and that decision proves fatal to one and heartbreaking to the other. Cassavetes made a film that is ungodly uncomfortable to watch from beginning to end. It is the epitome of people going through a mid-life crisis, though Jeannie is only putting on a show for her husband to show she doesn't care. Neither of them finds what they're looking for by the end of the film, and both probably regret the actions they took the night before, but it seems that neither will admit anything either. In the last scene we're left with disillusionment as both find themselves changed by the night before, but remain silent and pensive. It's clear that Cassavetes wants us to examine ourselves, and what we perceive as happiness, as romance, but not in such a one sided approach as society has dictated. Though many characters ramble and it feels inconsistent at times, it is a good portrait of a couple who have lost their way.
Spencer S.
Super Reviewer
I wasn't terribly impressed. Yes, it's filmed beautifully and the black and white is effective. But to me, it's two hours of people getting drunk and dribbling s$&t. And the drunken singing, dear god, make it stop. I'm not an idiot who can't appreciate films as art and likes everything nicey nice with a happy ending. Some of my favourite movies are dark as hell. This, however, is just too long and it's irritating. If I wanted to watch drunken fools, I could go hang out down the pub. I was interested in the premise of an unhappy couple and the monotony of suburbia, but these weren't like regular people. I thought this theme was done very well in Revolutionary Road, and I guess I thought this might be in the same vein. To top it all off, the mono sound meant I had to watch the whole movie with subtitles on because I could hardly understand what anyone was saying. (Then I felt like maybe I should switch them off again as maybe it would be preferable to the nonsense they were actually talking). Even having a hooker as a character couldn't make this interesting. This movie seems very popular, but I can't believe it's just me.
Nicki Marie
Super Reviewer
½
Cassavetes' probing look at dissolving marriages in the face of suburban malaise may be overlong and excessive, but it's unflinchingly honest at every turn. He's the master of letting scenes develop while simultaneously deconstructing them. Faces may not be his best film, but his directorial prowess is on full display. Cinema verite at its best.
Jonathan Hutchings
Super Reviewer
Faces Quotes
There are no approved quotes yet for this movie.