Factory Girl
(2007)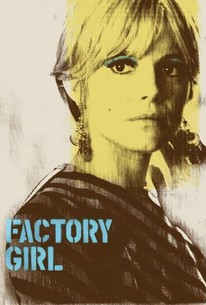 TOMATOMETER
AUDIENCE SCORE
Critic Consensus: Despite a dedicated performance by Sienna Miller, Factory Girl delves only superficially into her character, and ultimately fails to tell a coherent story.
Movie Info
The year is 1965, and Edie Sedgwick is living every young girl's dream. Edie's life changes forever when she meets Andy Warhol, New York's most famous artist, and the man who will transform this trust fund baby into the Big Apple's most dazzling Superstar. At the center of this exciting and decadent new world is The Factory, Warhol's downtown loft, a place where musicians, artists, actors and all types of misfits gather to create art and movies during the day, and to throw fabulous parties at night. It is here that Edie takes her place at Andy's side as the Factory's most alluring and irresistible Superstar. Edie has the world at her feet. Every woman wants to be her. Every man wants to be with her. But unable to find the love she craves from Andy and The Factory, Edie turns to the "voice of a generation" singer-songwriter Danny Quinn, a captivating and talented musician who represents everything that Andy is not - where Andy is all cool surfaces, Danny burns with the fire of his convictions. Danny pushes Edie to free herself from Andy, who has been using her in his movies but never paying her. Edie quickly falls for Danny, but every affair has its price.
News & Interviews for Factory Girl
Critic Reviews for Factory Girl
Audience Reviews for Factory Girl
½
Factory Girl is a decent film on the life of Edie Sedgwick and her work with Andy Warhol. The film should have been better considering the subject, but for what it is, it's a watchable film, but it's a film that should have been much better than what it ended up being. Guy Pearce is quite good in his performance of Andy Warhol, and his chemistry with actress Sienna Miller is really what makes this film watchable. The film should have been better, but as it is, it's n underdeveloped picture that doesn't realize its potential. Luckily, the two lead actors are great, and they make up for the lacking story. If the film was longer and the script would have been better, then Factory Girl would have been a standout film, but as it is, it's an inaccurate portrait of the two, and it doesn't tell the real story. I somewhat liked the film, but it's not a film that I would rewatch again. Factory Girl is simply a decent film that has too many imperfections for me to recommend it. Guy Pearce is very good here, but it's not one of his standout performances. Factory Girl deserved to be better, and it should have been more accurate than what the film turned out to be. I feel that the filmmakers rushed the film and they didn't give the story its just do. Luckily Sienna Miller and Guy Pearce keep you involved from start to finish. This film is just one of those movies that starts off with a promising start, but can't conclude in a satisfying way, and you are left wanting more out of the film, especially considering that Sedgwick was an influential actress in many of Warhol's shorts.
½
Is it possible ? A movie full of flaws, that still touches you, that still breakes you ? For me, Factory Girl proved it. Guy Pearce was perfect as Andy Warhol, while Sienna Miller did a good job. Hayden Christensen played well Bob Dylan (under another name because it is still not sure Eddie had an affair with him). There was something wrong with the direction and the screenplay, but yet both surprisingly great. There are way many movies showing imposant figures falling from high, but the beautiful Factory Girl really joined me, and I undeniably fell in love with this film. Every single person sould find something to love in this movie.
Emile Tremblay
Super Reviewer
Edie Sedgwick becomes the 1960s version of Paris Hilton, famous for her association to achievement and her downfall. The highlights of this film are the performances by Sienna Miller and Guy Pearce who are remarkably believable as Sedgwick and Andy Warhol. In fact, Pearce's performance frequently reminded me of Phillip Seymour Hoffman's Oscar-winning turn in Capote, and Miller embodied the tragic beauty of Angelina Jolie's Golden Globe-winner in Gia. Without a doubt, they are the only aspects of this film that keep it from falling into a morass of montage-ridden, depressing display of frenetic camerawork. I've read from multiple sources that Factory Girl has numerous factual errors. The Village Voice called it "Edie Sedgwick for Dummies," and Bob Dylan threatened to sue the film for defamation resulting in Hayden Christensen's character being called "Billy Quinn" instead of Dylan. By the end of the film, I didn't think I learned anything true. The articles I read about Sedgwick and Warhol helped me understand them as people more than the film, and I can only wish that Hollywood screenwriters would trust in the realization that sometimes real life is more interesting than what they could make up. Overall, see this film for Miller and Pearce, then do your research.
Jim Hunter
Super Reviewer
Factory Girl Quotes
| | |
| --- | --- |
| Andy Warhol: | Every teenage girl wants to look like you, Edie. |
| | |
| --- | --- |
| Edie Sedgwick: | Your movies have made a fool out of me! |
| | |
| --- | --- |
| Billy Quinn Musician: | This is where you paint your cans of beans, or whatever? |
| | |
| --- | --- |
| Billy Quinn Musician: | You're a prop to him, you're disposable! Baby, he's gonna kill you! |
| Edie Sedgwick: | I can't hate him! |