The Faculty
(1998)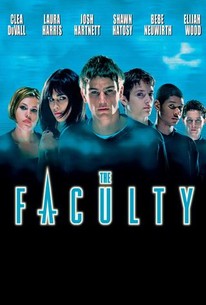 Movie Info
Like so many schools today, Herrington High has passed its prime. Its walls are grimy, its textbooks outdated, its teachers burned out. Yet its corridors are packed with the future of America - loners, leaders, hipsters, nerds, brains and jocks. Like teenagers everywhere, they struggle with parents who don't get it, teachers who never had it and hormones that won't quit. But the students at Herrington High face a greater challenge - saving the world from alien domination.
Critic Reviews for The Faculty
Audience Reviews for The Faculty
½
People who love classic works of literature often take a very puritanical view towards adaptations which update the setting, change the language, or otherwise make them more teen-friendly. They hold that the likes of Shakespeare, Dickens and Austen hold up without having to make concessions for more modern forms of speech and custom, and that repositioning them for adolescents doesn't so much pull in a new audience as provide them with an easy excuse for never reading the books in the first place. While many people will watch a period drama without ever reading the book on which it may be based, the opposite view holds just as much water. When done properly, modern, teen-friendly takes on classic stories can demonstrate just how hardy and universally appreciated these tales can be - and in the late-1990s and early-2000s, there were plenty of examples from which to choose. Jane Austen fans had Clueless (based on Emma), Shakespeare fans had Get Over It (A Midsummer Night's Dream), and fans of sex and vengeance had Cruel Intentions (Dangerous Liaisons). And then there's The Faculty which, while far from perfect, demonstrates the lingering influence on our culture of Invasion of the Body Snatchers. There's certainly an argument for making a late-1990s version of 'Body Snatchers, given the large number of adaptations which have preceded it. The original film, directed by Don Siegel, was a classic 1950s B-movie which reflected McCarthy-era fears in America of communist infiltration, with the pod people standing in for 'reds under the bed'. In the late-1970s, Philip Kaufman's terrifying remake satirised the 'me' generation and post-Watergate paranoia, with an ending which is still one of the scariest and bleakest in 1970s cinema. The 1980s and 1990s saw two different, sideways takes on the story, namely John Carpenter's They Live and Abel Ferrara's Body Snatchers. While primarily based on the short story Eight O'Clock in the Morning, They Live has 'Body Snatchers running right through it, using it to send up consumerism, advertising and the kind of anti-intellectualism that the likes of Neil Postman and Aldous Huxley had warned about. Ferrara's 'Body Snatchers, which came hot on the heels of Bad Lieutenant, pared the story down and confined its setting to an army base to make a point about social conformity and a loss of purpose for America after the Cold War had ended. The Faculty has a lot of John Carpenter running through it, reflecting the premise in They Live of ordinary people finding out that the powers-that-be have been supplanted, but substituting construction workers for high school students. It attempts, and largely succeeds, in using the different cliques in high school as a vector for paranoia; people who would never normally socialise are forced to work together, with each one being asked to trust people who would naturally withhold information from everyone who isn't in their friendship circles. The main point of reference, however, is Carpenter's remake of The Thing, with the pens filled with drugs standing in rather creatively for the petri dishes full of blood. The Faculty doesn't have the same unrelenting claustophobia that The Thing possessed - high school is, despite what some may feel, less oppressive than the Antarctic. Its ending is also more predictably upbeat - but that's not hard, given how cold and nihlistic The Thing's final scene was. But the film follows all the main beats of Carpenter's film quite nicely, keeping as much suspense as it can while still being more of a crowd-pleaser than a fully-fledged shocker. Taken as an adaptation of 'Body Snatchers - with bits of The Stepford Wives thrown in here and there - The Faculty works rather well, transliterating all the major plot developments and character arcs within a conventional but believable setting. The CGI is less overtly scary than Rob Bottin's groundbreaking effects from The Thing, but until the final showdown with the queen the effects are well-rendered and have a logical physicality to them. Some of the twists are well-executed and surprising, others make sense but are telegraphed to the audience; you won't shrink into your seat in terror like in the Kaufman version, but there's plenty of little jumps here and there. Where the film starts to falter is in its desire to be somewhat self-aware. While the script had been kicking around Hollywood since 1990, it wasn't put into production until the success of Scream, with Bob and Harvey Weinstein bringing in Ghostface creator Kevin Williamson to do rewrites. The film does have a post-modern quality to it, with characters making quips about touchstones of the genre, and this desire to be snarky and slightly above the material often works against the need to create a creepy, unrelenting atmosphere. The film is also firmly in the shadow of The X Files, which was hitting its peak around this time - it even shares the same typeface as the show's title sequence. Despite the rich heritage of 'Body Snatchers, the film occasionally has the scale and feel of a TV episode; you almost expect Mulder and Scully to turn up any minute and take over the investigation (like the FBI so often does in stories like this). Robert Rodriguez - who was very much a gun for hire on this film - wrings the most he can out of the set-up and the potential for splatter, but it's still a modest, little offering. Because it's so rooted in the high school sub-genre, The Faculty is also guilty of making too many concessions to generic convention. A pre-Lord of the Rings Elijah Wood puts in a good performance here, but since he survives up to the halfway point, it quickly becomes certain that he will still be alive at the end - the legacy of Revenge of the Nerds as much as 'final girl' horror scenarios. Equally, the whole sexy teacher routine that Famke Janssen puts on is made just about credible by her knowingly ripe performance, but it's also a lazy bit of writing designed to pander to the target audience (albeit less lazy than Liz Hurley's similar get-up in the Bedazzled remake). Aside from Wood and Janssen, the other performances in The Faculty are a complete mixed bag. Josh Hartnett is a convincing and likeable screen presence, which makes it all the more perplexing why his career didn't continue on its upward path after 40 Days and 40 Nights. Laura Harris - who had a small part in the It TV miniseries - is also enjoyable as Marybeth, managing to maintain her dignity in the locker room scene even with the gratuitous nudity. Otherwise, Robert Patrick and Selma Hayak are playing completely to type, and there's a needless but thankfully brief cameo from Harry Knowles, founder of Ain't It Cool News. The Faculty is an enjoyable and entertaining take on Invasion of the Body Snatchers which makes up for its many faults through some good performances and largely decent special effects. It's hardly the most original or best executed take on the story, and its efforts to cash in on the success of Scream are seldom to its advantage. But taken on its own, as either a bunch of horror references or a high school drama with a difference, it's hard to pass up.
Daniel Mumby
Super Reviewer
½
While this alien story might be familiar, thankfully, it ain't boring. Surely worth a shot.
familiar stranger
Super Reviewer
This is pretty much a sci-fi/horror flick crossbred with The Breakfast Club, but despite the cheesiness, it's still a pretty fun twist on an old formula, namely the one laid out by stuff like The Thing, and Invasion of the Body Snatchers. Representatives from various cliques (jock, wuss, prep, rebel, weirdo, new kid) ban together when they stumble upon the revelation that their school is ground zero for an alien invasion. It's nothing new, but Kevin Williamson and Robert Rodriguez put a nice and slick twist to things that makes for a very entertaining watch. I think I really gravitate towards this ,especially when I was younger, because I could identify with the themes of isolation, not fitting in, etc. which is why I also became a fan of The Breakfast Club around that time as well. The cast is star studded, featuring Elijah Wood, Clea Duvall, Josh Hartnett, Jordana Brewster, Laura Harris, and Shawn Hatosy as the primary group we follow, and Robert Patrick, Piper Laurie, Bebe Neuwirth, Salma Hayek, Jon Stewart, Famke Janssen, and even film critic Harry Knowles as some of the titular faculty. Christopher McDonald puts in an appearance as the father of Wood's character, and we also get singer Usher, Wiley Wiggins ,and Danny Masterson as some of the other students. The effects mostly hold up, though some look rather hammy. At least there's a decent amount of violence and some gruesomeness, even if not all of it is that convincing anymore. The film is a bit of a slow starting mystery, but once it kicks in, it's a fun ride with a decent soundtrack. Give it a go.
Chris Weber
Super Reviewer
The Faculty Quotes
| | |
| --- | --- |
| Marybeth Louise Hutchinson: | You know in my world Casey, there were limitless oceans as far as the eye could see. Beautiful, huh? Till it started to dry out. So I escaped, came here, and I met you, all of you, and all of you were different from the others. You were lost and lonely, just like me. And I thought that maybe I could give you a taste of my world. A world without anger, without fear, without attitude. Where the underachiever goes home at night to parents who care. The jock can be smart, the ugly duckling beautiful, and the class wuss doesn't have to live in terror. The new girl - well - the new girl she can just fit right in with anybody. People who are just like her. You see Casey, even Mary-Beth's feelings can be hurt by a bunch of pathetic, lost, little outcasts who truly believe that their disaffected lonely life is the only way they can survive. I can make you a part of something so special Casey, so perfect, so fearless. Don't you want that, Casey? |
| Casey Connor: | I'd rather be afraid! |
| Marybeth Louise Hutchinson: | Fine. Alright. Have it your way! 'Cause this is where your land of fiction gets it right: we win. End of story! |
| | |
| --- | --- |
| Stokely 'Stokes' Mitchell: | I always thought the only alien in this high school was me. |
| | |
| --- | --- |
| Casey Connor: | I say we go for the coach. He turned Stan. He's the one. Or do you want to wait for them to come to us? |
| Marybeth Louise Hutchinson: | Either way we're completely unarmed. |
| Zeke: | Maybe not. I might have some more skat. In my trunk. |