Fahrenheit 9/11
(2004)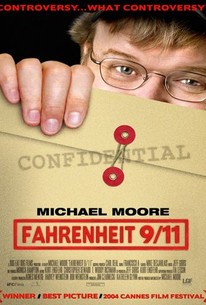 TOMATOMETER
AUDIENCE SCORE
Critic Consensus: Extremely one-sided in its indictment of the Bush administration, but worth watching for the humor and the debates it'll stir.
Movie Info
An expose which reflects upon what has happened to America since the events of September 11, 2001 that touches upon the personal relationship between President George W. Bush and the family of terrorist Osama bin Laden. As well, the chronicle focuses on the powerful roles that oil and greed may have played in the terrorist attack on the U.S.A.
News & Interviews for Fahrenheit 9/11
Critic Reviews for Fahrenheit 9/11
Audience Reviews for Fahrenheit 9/11
At the risk of making his film sound too preachy, Michael Moore examines with a lot of sardonic humor the causes behind one of the most shameful chapters in recent American history, creating an insightful and well-edited documentary that should be seen by everyone.
Carlos Magalhães
Super Reviewer
The United States Of America is surely one of the most frustrating and downright baffling societies in the world. An inept dimwit gains power through the nepotism of his fat cat cronies, perverts the democratic process and steals a PRESIDENTIAL ELECTION. He then uses a cowardly and barbaric attack on his country to provoke a climate of fear over his OWN VOTERS so he can take away their civil liberties and bomb two countries whose populations had NOTHING to do with it into the stone age in order to profit from the reconstruction after the devastation HE caused. Not to mention the fact that many of the soldiers dying half a world away are the very disenfranchised poor who had their votes stolen from them. And what do the American people (with the exception of a few egg throwers on inauguration day) do? Nothing. Nada. Zip. And yet when an intelligent, forward thinking president is FINALLY elected a society, so brainwashed by its capitalist overlords that they believe any attempt at beneficial social reform is anti-American or even dangerous, is up in arms at the idea of a free healthcare system FOR THEMSELVES!! In any other country, Michael Moore would be considered a champion and hero. In a place as screwed up as "the land of the free" however, he didn't stand a chance...
½
A documentary movie shouldn't usually be completely biased and one-sided like this, but Michael Moore has obviously done his homework and researched the subject matter deep enough and with enough attention to detail to make up for it's narrow mindedness. Or is it really? I never knew a documentary about one of the most horrific terrorist attacks in history and politics in general, could be unboring, informant, funny, and entertaining at the same time. That was until I saw Fahrenheit 9/11. It's a real eye opener and a funny one too.
Directors Cat
Super Reviewer
Fahrenheit 9/11 Quotes
There are no approved quotes yet for this movie.