Fail-Safe
(1964)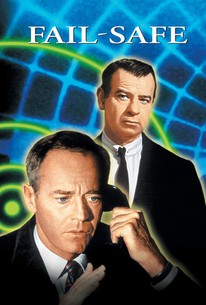 Movie Info
When a misguided transmission sends a squadron of bombers hurtling towards Russia, fully prepared to drop their atomic weaponry on Moscow, an Air Force commander desperately tries to establish radio contact with the planes, but once the pilots have passed the "fail safe" point, they've been instructed to disregard any reversal of orders.
News & Interviews for Fail-Safe
Critic Reviews for Fail-Safe
Audience Reviews for Fail-Safe
½
Old school psychological drama tightly wrapped around the question of limited nuclear engagement, still something of a conundrum in the mid-60s. In the fashion of the day many of the characters are little more than paper thin cutouts, there to advance the plot and nothing more (the writers did shake up the salad a little though to add spice, so against typecasting the main dove of the film is an Army general, while the main hawk is a college professor), but despite this only flaw here is one elephant of a film.
Kevin M. Williams
Super Reviewer
½
This is the flip-side of the coin upon which you find Dr. Strangelove. Riveting performances and incredibly tense telephone exchanges lead to an ending you will not forget. The closing sequence is so impossibly unacceptable that it becomes absolutely believable in its inevitability.
True, it's a bit dated, but If they'd found a part for Peter Sellers in this, I'm sure I would give it a full five stars : ) A seriously amazing movie that came out just months after Dr. Strangelove . Definitely the second best anti-war movie ever. Freakin riveting.
Lanning : )
Super Reviewer
½
An incredibly dramatic and intense depiction of the exagerated armamentistic career and the state of paranoia among superpowers, triggered not only by mechanical failures but by fanatism, extreme rigurosity or simple lack of human decency. Lumet's concatenation of silent and claustrophobic close ups work as a time bomb in a countdown to explotion with each passing second and the screenplay has the necessary ideological ambiguity of a tragedy, divergent positions over the same issue bouncing around, leading us to feel uneasy and desperate to work out a solution ourselves if we were among the politicians that decide our fate in the war room. For some, like the pragmatic but souless character played by Walter Matthau, human casualties are only statistics, war is effective to preserve the economical strenght of his country; others like the President played by Henry Fonda, are willing to take any action to straight the balance. An executive decision that seems far fetched, but makes the film even more powerful and rounds up more biblical and mythological allusions to make it seem timeless, therefore a highly probable worst case scenario.
Pierluigi Puccini
Super Reviewer
Fail-Safe Quotes
| | |
| --- | --- |
| President: | Colonel Grady, this is the President. What you are flying has been caused by a mechanical failure. I order you and your men to fly back at once. |
| Col. Grady: | I am beyond the point of voice commands. |
| President: | Damn it Grady, this is the President. |
| | |
| --- | --- |
| President: | What we'll hear is a sharp high pitched noise. The will be the sound of the Ambassadors phone melting from the fireball. |