Faintheart
(2008)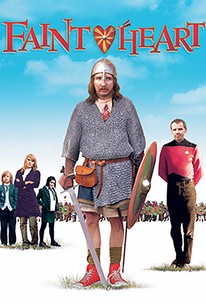 Movie Info
A man who enjoys living in the past is having a hard time dealing with the present in this comedy from the UK. Richard (Eddie Marsan) spends his days dealing with cranky customers at a big-box home improvement store, but on weekends he becomes a fearsome Viking warrior with a local role-playing group called the Bloody Broadswords. Richard and his best friend Julian (Ewen Bremner) help the group recreate centuries-old battles with all the realism their limited finances can muster, but Richard's wife Cath (Jessica Hynes) has lost her patience with him spending so much time with the Broadswords and so little time around the house. Richard's son Martin (Joseph Hamilton) is also grown tired of being dragged along to mock battles that earn him the ridicule of his schoolmates, even if his almost girlfriend Emily (Chloe Hesar) approves. Eventually, Cath gives Richard his walking papers, and while he tries to win her back, the fact she soon starts dating Gary (Paul Nicholls), Martin's gym coach, suggests he has a tough battle ahead of him. Meanwhile, Julian is having better luck in his love life when his girlfriend Maggie (Bronagh Gallagher) asks him to move in with her, but Julian's mother isn't pleased to learn he's finally leaving home. Faintheart was directed by Vito Rocco and written by Rocco and David Lemon, who documented the production and sought input from film fans via the social networking internet site /MySpace.
Critic Reviews for Faintheart
Audience Reviews for Faintheart
About as typical a brit romcom as they come, this just rises above the pack thanks to some genuinely funny moments performed by seasoned comedy performers (except Nicholls).
Gordon Anderson
Super Reviewer
Faintheart Quotes
There are no approved quotes yet for this movie.