Fair Play
(2014)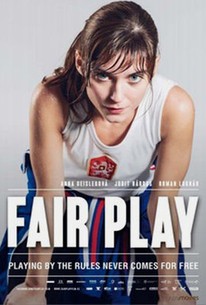 AUDIENCE SCORE
Critic Consensus: No consensus yet.
Movie Info
The 1980s in Czechoslovakia. The young talented sprinter Anna (Judit Bárdos) is selected for the national team and starts training to qualify for the Olympic Games. As a part of the preparation she is placed in a secret "medical programme" where she's getting doped with anabolic steroids. Her performance is getting better, but after she collapses at the training, she learns the truth about the drugs. Anna decides to continue in her training without the steroids even though her mother (Anna Geislerova) is worried that she won't be able to keep up with other athletes and might not qualify for the Olympics, which she sees as the only chance for her daughter to escape from behind the Iron Curtain. After Anna finishes the last in the indoor race, her mother informs the coach (Roman Luknar) that Anna is no longer using steroids. They decide to apply the steroids to Anna secretly, pretending it's nothing but doses of harmless vitamins.
Critic Reviews for Fair Play
All Critics (2) | Top Critics (1) | Fresh (1) | Rotten (1)
This somber docudrama is nuanced in its handling of period and the central female characters, but its vilification of communist authority figures is so obvious that it occasionally comes off as condescending.
A fun peek behind the making of an athlete, even if it does come off as run-of-the-mill.
Audience Reviews for Fair Play
I saw this at the 2015 Cleveland International Film Festival. Czechoslovakia in the 1980s does not look so far in the past. Young Anna (Judit Bárdos) trains and competes to join in the Olympic Games from behind the Iron Curtain. She is pressured to take steroids to maintain an edge in competition. Her mother, Irena, was also an Olympic hopeful in gymnastics, so Irena knows of the "sacrifices" made to win as well as the risky opportunity that getting out of the country for the games presents for escaping the country permanently. There are many murky ethical considerations between daughter, mother (Geislerová), and track coach (Luknár). The right thing to do is not as clear as you might think when seeing the advantages and costs granted to those choosing to cheat and those trying to play fair. Young love, an absent father, who has already broke free of the Iron Curtain, and suspicious government agents complicate matters further. The cast is strong overall, however, Judit as Anna was a bit too bland. True she is a focused athlete, but I found myself wishing she showed more passion for something.
Byron Brubaker
Super Reviewer
Fair Play Quotes
There are no approved quotes yet for this movie.