Fairy Tale: A True Story
(1997)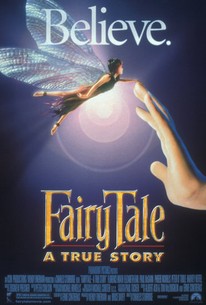 Fairy Tale: A True Story Photos
Movie Info
Two young girls who believe that fairies are real attempt to prove it to the world in this drama based on actual events. In 1917, there is little to be happy about in the Wright household in West Yorkshire, England. Polly (Phoebe Nicholls) and her 12-year-old daughter Elsie (Florence Hoath) are still grieving over the death of Elsie's younger brother, and Polly's niece Frances (Elizabeth Earl) has come to stay with them after her father was declared missing in action during World War I. Polly longs for some sort of proof that there is a life beyond our own, while the two girls ardently believe in fairies and enthusiastically study legend and lore. One day, Elsie and Frances produce photographs of fairies that they claim were playing in their garden; Polly believes that they are real, and soon the snapshots attract international attention. Sir Arthur Conan Doyle (Peter O'Toole), author of the Sherlock Holmes mysteries and a confirmed spiritualist, declares the photos "as genuine as the King's beard," while illusionist Harry Houdini (Harvey Keitel), who has devoted much time and energy to exposing phony mediums and psychics, takes a more skeptical view. While Fairy Tale: A True Story presents the appearance of the fairies as fact, analysis of the photographs proved them to be fakes (especially after the same fairies were discovered as illustrations in a children's book published before the photos were taken). The real-life Elsie Wright admitted late in life that the fairy photos were a hoax performed as a "little joke" and that she was always surprised that so many people believed them.
Critic Reviews for Fairy Tale: A True Story
Audience Reviews for Fairy Tale: A True Story
½
All that this pathetic and incredibly silly movie wants is to be cute, and so it shies away from the truth with a ridiculous justification that more important than reality is "magic" - even if coming from a deceiving fraud that supposedly brings comfort to people. Truth is, it is not.
Carlos Magalhães
Super Reviewer
If you have faith, anything is possible. I saw this Movie long time ago. It is Amazing even Adults believe in Fairies, but we even believe in Angels why not Fairies. Very inspiring Movie. Even though they revelead that the Pictures the girls shot were fake, I still think Children see more than us Adults. It makes you believe in Magic so hardly.
Another film off the list from the 1997 Toronto International Film Festival, from the Galas. Again a Movie that I missed when it came out and the only reason I saw it was because of this list. This movie is not only for children or adults with children, anyone with a open mind should see this, or anyone one who enjoys a movie that is just not another movie. Set right after WWI, 2 young girls find and take a picture of a fairy, And the girls meet Harry Houdini, and Sir Arthur Conan Doyle ( The Lost World) who takes an interest in them. All and all a good clean Family movie, saw nothing that would make me not let children see it. 5 stars alone for that reason. 5 stars for the acting and overall story.
Bruce Bruce
Super Reviewer
Fairy Tale: A True Story Quotes
There are no approved quotes yet for this movie.