Faithless
(2001)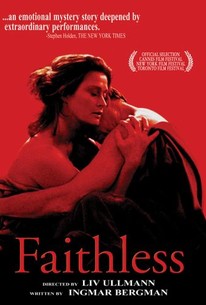 Movie Info
Ingmar Bergman wrote the screenplay for this drama of love, marriage, and infidelity, which was directed by one of his best-known leading ladies, Liv Ullmann. Bergman (Erland Josephson) is an aging filmmaker who invites an actress (Lena Endre) to his office to help him work on a character for an upcoming screenplay. The character, Marianne Volger (also played by Endre), is a well-known actress married to an internationally-successful symphony conductor, Markus (Thomas Hanzon). Marianne and Markus are close friends with David (Krister Henriksson), a filmmaker with a cavalier attitude toward money, career, and life in general. While Markus is away on one of his frequent concert tours, Marianne and David begin having an affair. When Markus finds out about his wife's infidelity, he files for divorce, demanding sole custody of their daughter Isabelle (Michelle Gylemo). Isabelle soon finds herself caught in the middle of an ugly war of wills between her mother and father. Faithless was screened in competition at the 2000 Cannes Film Festival.
Critic Reviews for Faithless
Audience Reviews for Faithless
I'm not familiar with Ingmar Bergman's movies. I have not seen any of his movies till Faithless. I know it was directed by Liv Ulmann but written by Bergman. My friend told me, you will recognize Bergman's themes in almost all his movies.The movie showed an old man, representing Bergman,writing a new script for a movie. A lady accompanies him, telling him everything about her life, as a married woman, betraying her husband with his best friend and the consequences of her actions. The script seemed predictable, but was really surprising.I It was just something different for me but unbelievably good.
Daisy Maduro
Super Reviewer
Faithless Quotes
There are no approved quotes yet for this movie.