The Falcon and the Snowman
(1985)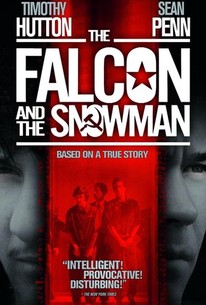 The Falcon and the Snowman Videos
The Falcon and the Snowman Photos
Movie Info
Offering a relatively objective look at an explosive issue, Falcon and the Snowman is a powerful fact-based drama about two Southern California boyhood friends who, even though they are comfortably wealthy, decide to sell government secrets to the Soviet Union in the mid '70s.
News & Interviews for The Falcon and the Snowman
Critic Reviews for The Falcon and the Snowman
Audience Reviews for The Falcon and the Snowman
The Falcon and the snowman is fairly good thriller. The story surrounds two friends who sell U.S government secrets to the Soviet Union. The Falcon and the Snowman has a good mix of drama thrown into it's real life thrilling story. The acting by Sean Penn and Timothy Hutton is very good. But by today's stndards with the Cold War over, the film looks dated of course. However there's something still appealing, and interesting about this story. The film is not perfect by any means, and does look a little cheap, but for what it is, The Falcon and the Snowman is a thriller worth watching. For the espionage buff and the cold war buffs out there, The Falcon and the Snowman is a very interesting film and will definitely appeal to them. There are of course better thrillers out there, but this is still a very engaging film with tense moments But considering that this was made in the 80's, what do you expect? A good, entertaining thriller, but it's nothing truly groundbreaking or really memorable. I've seen a lot better. I wasn't disappointed in the film, as I knew what to expect, but what is a little irritating is how much praise the film has gotten. I view it as an average good thriller with good acting. But some critiques of the film have gone overboard and prtaising it and saying it was a pulse pounding film. It was, but it lacked also enough fire in it's belly to make this truly a remarkable film.
Badly dated, but still a mostly solid political thriller with sure-handed direction by John Schlesinger. Zaillian's screenplay isn't perfect, but it moves at an effective pace and works well for the most part. Features great acting from Timothy Hutton and a young Sean Penn.
½
This movie looks and "feels" outdated, really "80ish". At times I felt like I was watching a TV show from that era. That aside, the story is a bit slow, but Daulton Lee's character (played by Sean Penn) is too captivating to resist this movie. As he ups the stakes of the game, he manages to continue weaseling his way out of binds with his smooth-talking, savvy, rhetorical tactics. In an "Informant" kind of way, this has plenty of entertainment value. Schlesinger really seals the deal with a finely directed and edited climax that helps this story come full circle and sheds light on the ways the characters come to term with their actions.
Richard Franzen
Super Reviewer
The Falcon and the Snowman Quotes
| | |
| --- | --- |
| Mr. Boyce: | Let him be judged. |
| | |
| --- | --- |
| Christopher Boyce: | we're the only nation on earth to ever use atomic weapons on other human beings. |
| Christopher Boyce: | We're the only nation on earth to ever use atomic weapons on other human beings. |
| | |
| --- | --- |
| Christopher Boyce: | I know a few things about predatory behavior.And what was once a legitimate intelligence gathering agency is now being used to prey on weaker governments. |
| Christopher Boyce: | I know a few things about predatory behavior. And what was once a legitimate intelligence gathering agency is now being used to prey on weaker governments. |
| | |
| --- | --- |
| Christopher Boyce: | There's never going to be any reconciliation. They're just as paranoid and dangerous as we are. I can't imagine that I thought they'd be any different. |