The Fall of the Roman Empire
(1964)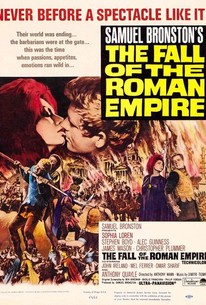 The Fall of the Roman Empire Photos
Movie Info
Though Fall of the Roman Empire is now infamous as the epic which destroyed the cinematic "empire" of producer Samuel Bronston, the film is actually an above-average historical drama, attempting to make sense of the political intrigues which resulted in the dissolution of the Glory That Was Rome. The film begins with wise, diplomatic emperor Marcus Aurelius (Alec Guinness) calling together the various representatives of the many nations within the Empire as a means of securing peace and prosperity for all involved. When Marcus intimates that he intends to turn over his crown to adopted son Livius (Stephen Boyd) rather than the logical successor Commodus (Christopher Plummer), he is poisoned by one of Commodus' cronies. Marcus' daughter Lucilla (Sophia Loren) tries to get Livius to claim the throne, but he wants no part of it; thus, the fate of the empire is in the incompetent hands of the preening Commodus. Despite efforts by cooler heads to save Rome from ruin, Commodus vainly declares himself a god and kills anyone who poses a threat to him. When he learns that Lucilla actually has a stronger claim to the throne than he does, Commodus condemns her to be burned at the stake. Only then does Livius intervene, slaying Commodus and promising to try to pick up the pieces of the disintegrating empire. Attempting to find a common ground between history buffs and action fans, Fall of the Roman Empire has come to be regarded as a classic. Alas, audiences in 1964 had grown weary of epics (especially after the highly touted but disappointing Cleopatra), and failed to turn out in sufficient enough numbers to justify Fall's exorbitant cost. Virtually wiped out, Samuel Bronston would not be able to return to filmmaking until 1971, and then only on a much smaller and more pinchpenny scale.
Critic Reviews for The Fall of the Roman Empire
Audience Reviews for The Fall of the Roman Empire
½
If pomp and pageantry (a whole lot of people standing around, dressed up, watching somebody else dressed up, walk or ride by) ("Ooooh! So-and-so just walked or rode by me! So impressed!") is your thing, then this is your ticket. The producer went broke paying for this 2-hour long ostentatious display of a "cast of thousands!". There are moments of action, such as the chariot fight, but those come few and far between. Also, for your entertainment pleasure, people say the word "Rome" a lot. You won't remember much of any of it. Or...maybe you will.
Kevin M. Williams
Super Reviewer
½
Overlong, plodding spectacle. Good and great actors alike trapped in this ponderous bore.
[font=Century Gothic]Throughout history, there have been focal points where events easily could have gone different ways. One such is in 180 A.D., depicted in the lavish spectacle "The Fall of the Roman Empire" that starts with blind soothsayer Cleander(Mel Ferrer) not being able to find the heart of a chicken which is not a good sign. Dying Emperor Marcus Aurelius(Alec Guinness) is putting his affairs in order and wants peace after seventeen years of war and a talk with Ballomar(John Ireland), the enemy commander. He also names General Livius(Stephen Boyd) his heir over his own unstable son Commodus(Christopher Plummer).[/font] [font=Century Gothic]The other divergence I want to bring up is the different possible approaches to the same material. "The Fall of the Roman Empire" and "Gladiator" are both inspired by the same events but that is where the similarities end. Whereas "Gladiator" exploits violence and revenge for their own sake, "The Fall of the Roman Empire" is a literate tragedy about peace and what it takes to govern an empire. It is helped by giving the various characters time enough to articulate their own positions. And James Mason is espeiclally superb at this and Finlay Currie has a great speech of his own. But don't worry. There are some epic battle scenes and a thrilling chariot ride through the forest, all of which are better appreciated when there are less special effects used.[/font] [font=Century Gothic]In fact, "The Fall of the Roman Empire" marks the end of an era in a different way. This was one of the last grand epics of the Hollywood studio system.(Why so many of them had to feature Alec Guinness and Omar Sharif is beyond me.) After this, the movies would get smaller for a while. It was probably for the best.[/font] [font=Century Gothic]Note: Christopher Plummer, James Mason and Anthony Quayle were also in "Murder by Decree."[/font]
The Fall of the Roman Empire Quotes
There are no approved quotes yet for this movie.