Fallen Angels
(1995)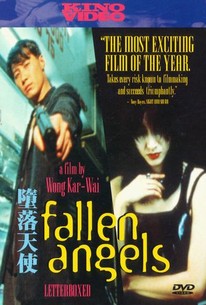 Movie Info
Wong Kar-wai's Fallen Angels is a sequel of sorts to the director's 1994 U.S. breakthrough Chungking Express. Expanding on the latter's style, themes, and mood, Fallen Angels is set in the surreal milieu of urban, nighttime Hong Kong. As with the filmmaker's other features, plot takes a back seat to mood. The wisp of a narrative intercuts two story lines. The first follows a hitman (Leon Lai) who finds that the assassin's life has slowly lost its allure. Complicating his life is his beautiful contact (Michele Reis, a former Miss Hong Kong winner) who pines after him with fetishistic ardor, although the two have never met in their nearly three-year partnership. In another part of the city, He (Takeshi Kaneshiro), a mute, boyish ex-convict, makes a living by sneaking into and running businesses after hours. Still living with his father who runs the Chungking Mansions hotel, the restless Ho falls for Cherry (Charlie Yeung), a woman getting over her breakup with the offscreen Johnny. The movie follows these episodic romances almost half-heartedly as with Wong's other films, and digressionary moments attract much of the camera's distracted gaze. This visually stylish and unabashedly effusive work is considered by some critics to be the quintessential Wong film.
Critic Reviews for Fallen Angels
Audience Reviews for Fallen Angels
½
UPDATE: Just discovered that Fallen Angels is out on DVD and I can watch it. Will buy it soon and re-watch it and then re-review it........soon Fallen Angels is the story of a professional killer in Hong Kong. It follows the in's and out's of his job and his partner in crime who he rarely sees. After 3 years of working together, he wants out. Another sub-plot is about a mute (caused by eating expired cans of pineapples for a month, after he was heart broken) who breaks into restaurants, cafés and ice-cream trucks at night and forces people to buy his goods! Wong Kar Wai?s fifth directorial film in 1995 and which was originally meant to be part of Chung King Express was a good film but not great. For me it seems incoherent and the characters just don?t seem to be able to hold the narrative well as I thought. There great parts of the movie are as follows; the stunning cinematography done by frequent collaborator, Christopher Doyle really captures the mood of Hong Kong well and the themes brought up in the film. Such as alienation from others, which I believed that was shown well. Once again, Wai leaves hints of trademarks around the mise-en-scne. For instance during the film, there are constant references to the weather, and how it?s raining. Which has been featured in Chungking, In The Mood For Love, Happy Together amongst his work. There are also subtle hints in the background, through radio and TV, which reflects Hong Kong?s news, which is currently going on. What is done well is the usage of language, we see the news in English, French and Mandarin of course- that reflects well the era in which it was done in. The camerawork is something, which I haven?t seen in his work before. The close-up camera work is effective and does make the audience understand the characters well and their thoughts and feelings. However, what also this creates is a colastrophic atmosphere that these alienated characters are finding themselves in most of the time and you do feel like you are intruding in their lives at times. The narrative, as I stated before, is a little confusing. However the narrative with He Zhiwu I was able to understand. Once amusing scene was when he was massaging a pig, which probably fitted well with his character?s personality. He was a mute, but I felt more sympathy for him that the other characters within Fallen Angels. Perhaps the camera-work made the film, for me, seem a little slow-paced and out of sorts. Overall, Fallen Angels is worth the watch but is not of of his better movies. For me Chungking, its predecessor is far superior and has that quirkiness about it, which you cannot not like. This, perhaps, is a darker versions of that and delves deeper into what really is going on in these disillusioned people. If you haven?t watch Wai?s excellent work, start with his most recent work as it?s far better. Fallen Angels is superior to Days of Being Wild and As Tears Go By
Sarah Gaish
Super Reviewer
½
Netflix somni-bomb. All style, mood and colors. It literally took me three months to get through this frickin' movie because it kept putting me to sleep. So cool it's dead.
Bob Stinson
Super Reviewer
½
Bleh, Wong Kar Wai...at least he had the decency to show Michelle Reis touching herself.
Tsubaki Sanjuro
Super Reviewer
Fallen Angels Quotes
| | |
| --- | --- |
| Agent/Killer's boss: | I'm about to leave. I ask him to take me home. I haven't ridden pillion for a long time nor have I been this close to a man in ages. The road home isn't very long, and I know I'll be getting off soon. But at this moment, I'm feeling such lovely warmth. |
| | |
| --- | --- |
| He Zhiwu: | They say that love can change a man. I start to find myself looking better and more charming, and suddenly I discover that I'm turning blonde. |
| | |
| --- | --- |
| He Zhiwu: | i have heard people say everything has its expiration date. I wasn't sure this would apply to her and johnny, but i thought it might soon. |
| He Zhiwu: | I have heard people say everything has its expiration date. I wasn't sure this would apply to her and johnny, but I thought it might soon. |