Falling Down
(1993)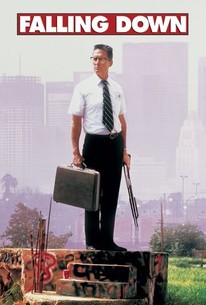 TOMATOMETER
AUDIENCE SCORE
Critic Consensus: Falling Down's popcorn-friendly take on its complex themes proves disquieting -- and ultimately fitting for a bleakly entertaining picture of one man's angry break with reality.
Movie Info
It's just not William Foster's (Michael Douglas) day. Laid off from his defense job, Foster gets stuck in the middle of the mother of all traffic jams. Desirous of attending his daughter's birthday party at the home of his ex-wife (Barbara Hershey), Foster abandons his car and begins walking, encountering one urban humiliation after another (the Korean shopkeeper who obstinately refuses to give change is the worst of the batch). He also slowly unravels mentally, finally snapping at a fast-food restaurant that refuses to serve him breakfast because it's "too late." Running amok with an arsenal of weapons at the ready, Foster -- also known as "D-FENS" because of his vanity license plate -- rapidly becomes a source of terror to some, a folk hero to others. It's up to reluctant cop Prendergast (Robert Duvall), on the eve of his retirement, to bring D-FENS down.
News & Interviews for Falling Down
Critic Reviews for Falling Down
Audience Reviews for Falling Down
½
Not bad. Loathed and pitied William all at the same time. Some of it was funny in a really black way (or maybe it's just me).
Nicki Marie
Super Reviewer
This is another great example of how, when given a more modest budget, and decently written indie-minded material that Joel Schumacher is capable of delivering a really good and thought provoking film. Now, if only he could do this more often... Micahel Douglsas delivers one of his absolute best performances as William "D-Fens" Foster, the archetypical 'angry white man". Life just isn't going his way: he's an anger prone divorcee and recently unemployed defense contractor trying to eek out an existence in L.A. While stuck in a major traffic jam one sweltering morning, his frustrations finally come to a boil, and he decides to lash out at all of the problems he sees plaguing society. After abandoning his car in the pile up, he casually tells someone he's going home, then sets out through the urban jungle to get home to celebrate his daughter's birthday, while along the way taking care of those aforementioned issues he has with the world. This would make for great viewing along with films like Taxi Driver or Do the Right Thing, as they all deal with similar issues and themes, often in very similar ways. The script is pretty well written and does a good job of clearly showing the legitimate social ills that plague many cities, and the effect that can have on people. Also, even though middle aged white men are historically the most entitled and oft represented demographic, their plight cannot or shouldn't go unnoticed where scholarly study is concerned. And yeah, Douglas does a wonderful job at bringing these struggles to life. He's extremely compelling to watch, and his character is alternately sympathetic and frighteningly psychotic. Like the movie overall, you'll be somewhat tickled one moment (lots of dark humor), and horrified the next. The other major plot going on here besides Bill's odyssey is that of the efforts of Prendergast, a cop on his final day of work before retiring who is tasked with stopping Bill's rampage. He's played wonderfully by Robert Duvall whose skill and world weariness lend a lot of credibility and pathos to the role. Like Douglas's character, his is similarly frustrated and alienated, but he chooses to deal with things in a different but still interesting manner. Other notable performers here include Barbara Hershey as Bill's ex-wife, Rachel Ticotin as Prendergast's colleague, and Lois Smith as Bill's mother. They all put in some decent work, but none of them can match either Duvall or Douglas. Schumacher provides some sharp direction, and mise-en-scene is used quite effectively to convey all the themes and feelings of the characters. The script is good, and addresses a lot of important issues, but even though it's not totally necessary, it might have been nice had the film tried to provide some answers to the questions and issues it raises. While a lot of the film is really good and quite interesting, it is uneven. The stuff with Duvall is rather cliche and isn't as impactful or gripping as it should be. The film is also rather one-sided a lot of the time when it comes to the problems Bill has with the world...and mildly racist, too. However, the film hits far more than it misses, and besides being entertaining it tries to be a lot more, so even if it is flawed, it is s still very fascinating and absorbing, so please give it a chance.
Chris Weber
Super Reviewer
You will never find a film which can define our reality like 'Falling Down'. It shows our society, along with most of its problems, of how we are slowly falling apart. With a strong story and brilliant performance by Michael Douglas, this film will make you see more clearly with the world around you.
Samuel Riley
Super Reviewer
Falling Down Quotes
| | |
| --- | --- |
| D-Fens/William Foster: | Just passing though |
| D-Fens/William Foster: | Just passing though. |
| | |
| --- | --- |
| Rich "Whammyburger": | Well, hey I'm sorry |
| Rich "Whammyburger": | Well, hey I'm sorry. |
| D-Fens/William Foster: | Im sorry too *Pulls out gun* |
| D-Fens/William Foster: | Im sorry too. [pulls out gun] |
| D-Fens/William Foster: | Now everybody eat you all need your Vitamins A's B's C's and D's*Aims gun at ceiling and shoots* |
| D-Fens/William Foster: | Now everybody eat you all need your Vitamins A's B's C's and D's [aims gun at ceiling and shoots] |
| D-Fens/William Foster: | Sorry!Sorry!The Trigger, The trigger its a sensitive trigger... |