Fame
(1980)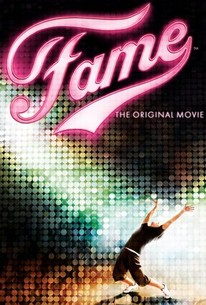 Movie Info
Fame is set at New York's High School of Performing Arts, where talented teens train for show-business careers. The film concentrates on five of the most gifted students: singer Irene Cara, actors Paul McCrane and Barry Miller, dancer Gene Anthony Ray, and musician Lee Currieri. More so than the subsequent TV series Fame, the film emphasizes the importance of keeping up one's academic achievements in this specialized school. The faculty includes no-nonsense English teacher Ann Meara, erudite musical instructor Albert Hague, and martinet dance teacher Debbie Allen. Of the film's cast, Ray, Currieri, Allen and Hague were carried over to the TV version of Fame, which premiered in 1981. The score for the film version of Fame was honored with an Academy Award. ~ Hal Erickson, Rovi
Audience Reviews for Fame
A delightful and compelling drama with a wonderful soundtrack and a gallery of characters that we really learn to care about, and the best is to see that it is told so fluidly in loosely organized fragments and never loses its pacing thanks to the great editing.
Carlos Magalhães
Super Reviewer
½
I've always liked the song Fame. It took me 28 years to see the movie. I enjoyed the music and dancing. As a film I thought it was mediocre - too many draggy scenes.
"I celebrate the me yet to come." Recognizing all its flaws, I unabashedly love Fame. I understand that the characters fall into stereotypes, and I think many of their stories never reach a cathartic or dramatic conclusion; this is especially true of Ralph and Leroy. Also, these are oh-so-clearly adults playing teens; it even seems written that way most of the time. However, Fame achieves a complexity found in few films and almost no musicals. How is it that - for me - this film worked as both a cautionary tale and an inspiration? How is it that I recognized so many people from the acting world in these loosely drawn characters? Parker's direction and the rather spontaneous musical numbers embody the passion, ambition, dedication, triumphs, disappointments, and blindnesses that afflict these people. More to the point, I've known some artists whose talent amazed me, but yet you don't know them. You know talentless hacks, many of whom can't act dead. Each of these people recognizes that what most likely awaits them is a boulevard of broken dreams, spoiled ambitions, and a life counting their tips, hoping enough is there for rent, but each is also driven by an indomitable spirit. Fame's achievement is capturing all that on film, even to some degree into one fantastic scene toward the end (Irene Cara's nude scene - you'll know what I mean if you see the film). Additionally, I enjoyed the peripherals: the stage mother, the broken home, the absent but financially generous parents. All of these exist in varying forms. Overall, it takes some effort to see past this film's flaws, but once you do, you won't be disappointed with what lies at its core.
Jim Hunter
Super Reviewer
Fame Quotes
| | |
| --- | --- |
| Miss Berg: | Where's the sweat, Lisa? |
| Liza Monroe: | I'm working on it. |
| | |
| --- | --- |
| Montgomery MacNeil: | Never being happy isn't the same as being unhappy. Is it. |
| | |
| --- | --- |
| Doris Finsecker: | I'm about as flamboyant as a bagel. |
| | |
| --- | --- |
| Leroy Johnson: | I'm young, I'm single, and I love to mingle! |