The Family Man
(2000)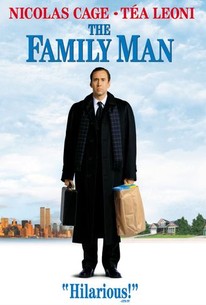 TOMATOMETER
AUDIENCE SCORE
Critic Consensus: Despite good performances by Cage and especially by Leoni, The Family Man is too predictable and derivative to add anything new to the Christmas genre. Also, it sinks under its sentimentality.
Movie Info
Wall Street playboy, Jack Campbell is at the top of his professional game with little time for anything else. Jack's lavish, fast-paced lifestyle drastically changes one snowy Christmas night when he unwittingly stumbles into the middle of a grocery store holdup and in a bold display of self-preservation disarms the gunman. The next morning he wakes up in a suburban New Jersey bedroom lying next to Kate, his college sweetheart who he left in order to pursue his career, and to the horrifying discovery that his former life no longer exists. As he stumbles through this alternate suburban universe, Jack begins to feel strangely comfortable in this new role of loving husband and father to two children. Jack finds himself at a crossroad, where he must choose between his high-powered career and the woman he loves.
News & Interviews for The Family Man
Critic Reviews for The Family Man
Audience Reviews for The Family Man
Good storyline and a great film with Nicolas Cage making a great 'Family Man' character. A must see!
Bethany Murphy
Super Reviewer
½
Corporate raider and hedonist playboy Nicolas Cage wakes up one morning to find himself living the life he would have led if he'd not chosen his career over an old girlfriend. In other words: 1 Cage wakes up surrounded by kids and associated mess 2 Runs around shocked by the fact that all his rich pals don't recognise him 3 Is horrified by nappies 4 Has a trademark Cage rant about how crappy his new life is 5 Finally learns "what's important" 6 Is dumped back in his old life, to his dismay 7 *Hallmark moment* CREDITS As you can see, The Family Man follows the formula of the feelgood holiday movie to the letter and will warm either your heart or your sick bucket depending on taste. As a film, I'd have to say it's too long and not particularly funny although Don Cheadle's all too brief appearance is reasonably enjoyable. I would have to point out that I doubt that anyone involved in producing this film has to clip coupons or shop at K Mart, so being told by a bunch of rich people that "money isn't everything" smacks of hypocrisy AT BEST. At least I got to see Tea Leoni dancing in the shower which almost makes up for the two hours I wasted watching this predictable pap.
½
Seems to rarely look at the theme it claims to convey--that married life is preferable to being single. What it really does is contrast being wealthy to being middle-class, though the comparisons it makes mean little. While the final, quasi-climactic scene at last satisifies the wont for a wholly title-appropriate theme the film so lacks, it does so far too late and with little meaning as the ending neither satisfies nor leaves the viewer happy or optimistic. A decent film, still; Cage's and Leoni's chemistry is great and the screenplay isn't terrible. It's just completely off-message for the majority of the film.
Jay Hutchinson
Super Reviewer
The Family Man Quotes
There are no approved quotes yet for this movie.