Family Plot
(1976)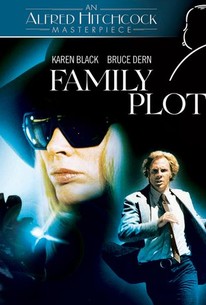 TOMATOMETER
AUDIENCE SCORE
Critic Consensus: The Master of Suspense's swan song finds him aiming for pulpy thrills and hitting the target, delivering a twisty crime story with pleasurable bite.
Movie Info
Alfred Hitchcock's final film was adapted from Victor Canning's novel The Rainbird Pattern by Ernest Lehman, who previously wrote the screenplay for Hitchcock's North by Northwest. Barbara Harris plays Blanche, a phony psychic, hired by wealthy Julia Rainbird (Cathleen Nesbitt) to trace the whereabouts of her nephew, who'd been given up for adoption years earlier and who is now heir to a fortune. Blanche's cohort is "investigator" Lumley (Bruce Dern), who is fully prepared to milk the last dollar out of Julia before locating the long-lost nephew. Meanwhile, we are introduced to elegant kidnappers Adamson and Fran (William Devane and Karen Black). The fates of the two couples are inextricably intertwined by the search for the missing heir.
Critic Reviews for Family Plot
Audience Reviews for Family Plot
½
Hitchcock's final film is an outstanding finish to a brilliant career. Hitch was obviously still sharp as a tack directing this one.
Graham Jones
Super Reviewer
½
This was Hitchcock's final film, and, as far as this sort of thing goes, I suppose it could have been worse. The plot is a convoluted and sometimes confusing lighthearted mystery romp involving 'psychics', kidnapping, ransom, and, of course, the dead (or presumed to be). It's not as funny as maybe it should be, and, while I am okay with humor, I think this might have been far more effective and interesting if it was played darker and more serious. Don't get me wrong, it's interesting stuff, but I think it could have been even more so if done differently. I liked Karen Black and Bruce Dern, and, while the not as notable cast (at that time) are fine, I think this would have been better if it had some major star power behind it. The music by John Williams is pretty good, and the film has a nice look to it, but I can just tell that Hitch was probably not trying all that hard here. I know it's cliche to rant about the dip in quality of his later work, but all things considered, this could have been far, far worse. This might be lesser Hitch, but it's still kinda decent, so sure, give it a watch.
Chris Weber
Super Reviewer
½
An appropriate swan song for Alfred Hitchcock's career, Family Plot is light and thoroughly entertaining. It's a clever mystery involving multiple identities and ensuing confusion with the master's comedic touches as well. Family Plot may not seem typical Hitchcock to some, but it reminds me of The Trouble with Harry as a few others. Those only familiar with Psycho and Vertigo would be surprised at his amazingly varied career. Remember how funny Hitch was on his TV show. Family Plot is cast well. I love the chemistry, especially the verbal jabbing, between Barbara Harris and Bruce Dern. William Devane is perfect as the debonair jeweler and kidnapper hiding a dangerous past. Ed Lauter's great too; he usually plays a jerk (think Longest Yard), but here he's even creepier. This film is a greatly nuanced comedy about death. It's a nice contrast with AH's previous film, the R-rated shocker Frenzy. Considered together, I think they typify his career. This isn't deep philosophy, its entertainment. As the master stated, "drama is life with the dull bits left out."
Clintus Maximus
Super Reviewer
Family Plot Quotes
There are no approved quotes yet for this movie.