The Family Stone
(2005)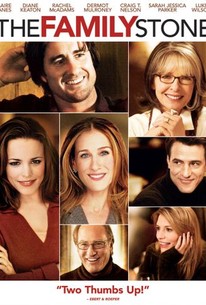 Movie Info
A man brings his ice-queen girlfriend home for Christmas to meet his eccentric family. Overwhelmed by the hostile reception, the girlfriend begs her sister to join her for emotional support, only to trigger more problems.
Critic Reviews for The Family Stone
Audience Reviews for The Family Stone
½
Everett brings his uptight girlfriend Meredith (SJP) home to meet his family at Christmas with disastrous consequences. From the trailer this looks like a funny Christmas movie, but this is not a funny movie. The ending made me sad. Good cast.
Candy Rose
Super Reviewer
The cast give it their best shot, but they can't save this film from a script full of contrived drama and jarring tone inconsistencies. When the film is trying to be dramatic, it feels like a Lifetime channel movie. The relationships are unbelievable and the family comes across as unpleasant and mean. When the film is trying to be funny, it is humorless slapstick that is usually placed after "serious" moments. The movie is also very blandly directed and the cinematography is TV movie quality. Their is some good acting and a few little laughs but the film does not work as a whole. This movie is not a "feel-good" romantic comedy, it is a "feel-bad" TV movie that somehow missed the Lifetime channel.
Christopher Heim
Super Reviewer
Completely underrated! Great film!
Jameson Worley
Super Reviewer
The Family Stone Quotes
There are no approved quotes yet for this movie.