Fanatic
(1982)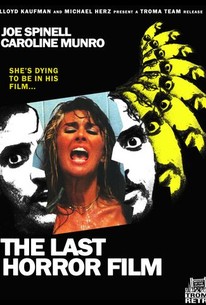 AUDIENCE SCORE
Critic Consensus: No consensus yet.
Movie Info
In this slice-n-dicer, a cabbie becomes obsessed with a lovely movie scream queen and decides to follow her to the Cannes Film Festival. Though she is a cult favorite, few take the horror-movie actress seriously. The taxi driver does and is sure that with a little of his expert direction she could become an excellent dramatic actress. Unfortunately, before he can help her, he must first get her attention. He first approaches her while she is taking a shower in her suite. Naturally she attempts to throw him out. A scuffle ensues and he ends up threatening to slit her throat. She escapes and dressed only in a towel runs through a crowd. The taxi driver is right behind her and the other festival-goers, thinking it all a clever promotional gimmick, applaud. He stops to take a bow and she makes it to safety. This bad start does not stop the cabbie from trying to reach her and before the story ends, many people die horrible deaths, leading to the film's surprising ending. Much of the story was shot on location at the 1981 Cannes Film Festival and features shots of several famous actors and filmmakers.
Critic Reviews for Fanatic
All Critics (1) | Top Critics (1) | Fresh (1) | Rotten (0) | DVD (1)
Itself a genre film shot on location during the actual 1981 Cannes festival, [it] exploits the realities of cinema's biggest dream market, while weaving into this world of cutthroat deals the kind of slasher plot that can only happen in the movies.

Audience Reviews for Fanatic
The Last Horror film is an inventive psycho horror film with elements of the Slasher genre. A cab driver becomes obsessed with a horror film star, and he wants her to star in his film. The premise is simple, but one that is chilling, considering that this could easily happen in real life due to the fact that there are people out there that have stalked and threatened celebrities. The tone of the film is raw, gritty and in your face with a touch of pure 80's Slasher flavor that will delight genre fans. This one may have been forgotten about due to the fact that there has been countless Slasher films released throughout the decade. Actors Joe Spinell and Caroline Monro, who previously worked together on the 1980 William Lustig film Maniac reteam for this film. Both are quite good in their performances, and Spinell is just one impressive actor who can effectively play a villain that is memorable, menacing and captivating. He proved himself in his role of Frank Zito in Maniac, and he adds so much more here. The film is different in style compared to Maniac, but retains a few elements as well to keep genre fans interested. I've seen my fair share of bad Psycho/Slasher films, but this film deserves to be rediscovered by genre fans due to the fact that it has a very entertaining storyline and good performances. Although it doesn't reinvent the genre, its story and intense performance by Joe Spinell make this a demented horror film that that is far better than most Slasher films of the era. Of course the film had potential of being better, but as it is, it's an entertaining ride into madness that is sure to please horror fans that enjoy early 80's Slashers.
Obviously this isn't the last horror film, but it is a good one, it's a mystery horror story. This movie is suspenseful, scary, and has a nice twist at the end, I really liked it.
½
A slightly less sleazier follow-up to the 1980 movie Maniac about a wannabe film-maker stalking his favourite actress around Cannes during the film festival carving-up any directors and producers that shun his ideas. It's got some bloody murders, plenty of naked flesh on show and Joe Spinell has fun in his maniacal role once again. But it doesn't quite have the gritty, shocking impact as Maniac. Good entertaining fun.
Fanatic Quotes
There are no approved quotes yet for this movie.