Fantasia
(1940)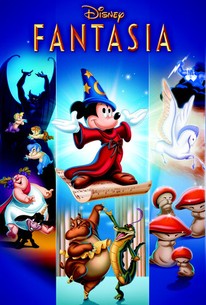 TOMATOMETER
AUDIENCE SCORE
Critic Consensus: A landmark in animation (and a huge influence on the medium of music video), Disney's Fantasia is a relentlessly inventive blend of the classics with phantasmagorical images.
Movie Info
Regarded by many as Walt Disney's masterpiece, Fantasia predicted the modern music video by offering nine animated segments that were directly inspired by compressed versions of well-known classical music without necessarily adhering to the original composers' intent. Featuring the work of the Disney studio's artists at the height of their powers, and coupled with conductor Leopold Stokowski's musical arrangements, Fantasia's fanciful interpretations include a semi-abstract rendition of Bach's Toccata and Fugue in D Minor; water sprites, dancing mushrooms, and other creatures in Tchaikovsky's The Nutcracker Suite; Mickey Mouse as the title character in Paul Dukas' The Sorcerer's Apprentice; dinosaurs roaming a primordial Earth in Stravinsky's The Rite of Spring; frolicking mythical creatures in Beethoven's The Pastoral Symphony; ballet-dancing ostriches, hippopotamuses, and alligators in Ponchielli's Dance of the Hours; and the rise and fall of the dark demon Chernobog in Mussorgsky's Night on Bald Mountain and Schubert's "Ave Maria." Deems Taylor's narration (and brief words by Stokowski and Mickey) provide the only spoken words in the film.
Critic Reviews for Fantasia
Audience Reviews for Fantasia
This is a pretty boring film, and not an effective vehicle for getting kids interested in classical music. There's no coherent story. It's just not interesting.
Christian C
Super Reviewer
The Disney cartoon sans narrative was quite vanguard in the 40s, but for an ostensible kids movie, the filmmakers didn't play to its audience. Stravinksy's "Rite of Spring" seems longer than the Jurassic Period, and the animation of the Big Bang is surprisingly violent. The prologue explaining the movie is also bone dry and humorless. As a more mature foray into art and music fantasy, Disney further missed its mark with careless racist and sexist references (as it often does) in Beethoven's "Pastoral Symphony" with the specifically colored horses and in "Dance of the Hours" with the offensive and alarming gender roles. In the 21st century, "Fantasia"'s dated quality really shows.
Alice Shen
Super Reviewer
This film is one of the definitive classics in Disney's catalogue, along with Disney's flagship film, Snow White, Fantasia is the best film in animation history and everyone who's familiar with Disney owes it to themselves to check this one out. Fantasia is a terrific musical that has definitely stood the test of time. This is a masterwork of animation with brilliant stories and a great cast of talented voice actors. Of all Disney films, Fantasia has had a long lasting impact on me. The sheer importance of this film in the cinematic medium is astounding. This is a brilliant film from start to finish and will stay with you for many years to come. I absolutely loved this film, thought it was one of the finest musical films ever put on film and if you want THE musical film, then this is the film to watch. Fantasia is simply brilliant. This is a definite childhood classic, a film that has stood the test of time. This is yet another memorable Disney classic that any real film buff and child should see. A brilliant piece of cinema history, Fantasia is a wonderful viewing experience, one that will please children as much as adults. A definite must see. This is a film that is spectacular and truly one that will stay with you. Disney has done it again. Sure Snow White is Disney's masterwork, but Fantasia elevated the studios potential for effective storytelling even further. This is simply put a phenomenal film that every film fan should see.
Fantasia Quotes
| | |
| --- | --- |
| Mickey Mouse: | (Pulling On Stokowki's Coat) Mr. Stokowki! Mr. Stokowki! (Mickey Whistles To Get Stokowki's Attention) |
| Mickey Mouse: | [pulling On Stokowki's Coat] Mr. Stokowki! Mr. Stokowki! [Mickey Whistles To Get Stokowki's Attention] |
| Mickey Mouse: | My Congratulations, Sir! |
| Himself: | (Shaking Hands With Mickey) Congratulations To You, Mickey! |
| Himself: | [shaking Hands With Mickey] Congratulations To You, Mickey! |
| Mickey Mouse: | Gee, Thanks! He, He! Well, So Long! I'll Be Seeing Ya! |
| Himself: | Goodbye! |