Fantastic Beasts: The Crimes of Grindelwald
(2018)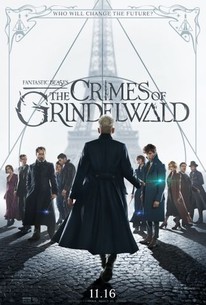 TOMATOMETER
AUDIENCE SCORE
Critic Consensus: Fantastic Beasts: The Crimes of Grindelwald has glimmers of the magic familiar to Harry Potter fans, but the story's spell isn't as strong as earlier installments.
Fantastic Beasts: The Crimes of Grindelwald Videos
Fantastic Beasts: The Crimes of Grindelwald Photos
Movie Info
At the end of the first film, the powerful Dark wizard Gellert Grindelwald (Depp) was captured by MACUSA (Magical Congress of the United States of America), with the help of Newt Scamander (Redmayne). But, making good on his threat, Grindelwald escaped custody and has set about gathering followers, most unsuspecting of his true agenda: to raise pure-blood wizards up to rule over all non-magical beings. In an effort to thwart Grindelwald's plans, Albus Dumbledore (Law) enlists his former student Newt Scamander, who agrees to help, unaware of the dangers that lie ahead. Lines are drawn as love and loyalty are tested, even among the truest friends and family, in an increasingly divided wizarding world.
News & Interviews for Fantastic Beasts: The Crimes of Grindelwald
Critic Reviews for Fantastic Beasts: The Crimes of Grindelwald
Audience Reviews for Fantastic Beasts: The Crimes of Grindelwald
½
When they adjusted the Hobbit movies so there was going to be three instead of two, it required some very noticeable padding and filler material to meet out that requirement. The second Fantastic Beasts film (of a planned five film series, expanded from a trilogy) feels exactly that way, a mostly table-setting movie with more incidents than plot, a few pertinent revelations, and not much in the manner of resolution. The second Fantastic Beasts does improve on its predecessor in several regards. It introduces a formidable villain that's well played by Johnny Depp. It introduces a compelling younger version of Albus Dumbledore that's played by the dashing Jude Law. It also finds more purpose for its hero, the shy magical zookeeper Newt (Eddie Redmayne), as the series inches closer to a wizards-vs-wizards world war. Things take a turn for the darker; within the First Act, a baby is murdered. They didn't even do that in the new Halloween. The larger world building of Beasts, written by author J.K. Rowling for the screen and directed by longtime stalwart David Yates, has been its biggest draw. The supporting characters are back, though not everyone has much to do. Rowling is improving as a screenwriter but she still has trouble executing exposition-heavy scenes, resorting to sequence after sequence of characters prattling on. Ultimately, it doesn't feel like there's much of consequence until the very end, so we endure characters running through underdeveloped and contrived storylines. One of these involves Katherine Waterston mistakenly believing Newt is engaged (his brother is) and somehow, despite having access to magic let alone other forms of media, never findings out the easy truth. It's stuff like that that show me Rowling was struggling to find material for every character to push them forward on this now extended journey. Crimes of Gindelwald is an overall step in the right direction for the prequel series even if this individual movie has trouble standing on its own magical merits. Nate's Grade: B-
Nate Zoebl
Super Reviewer
½
Even though the plot is less cohesive than in the first movie (and Yates's direction more chaotic than it had the right to be), this sequel has urgency and couldn't be more relevant in times when seductive authoritarians incite violence while shifting the blame to the oppressed.
Carlos Magalhães
Super Reviewer
½
Being a fan of the Harry Potter film franchise for as long as I can remember, I've been looking forward to this expansion of this Wizarding World that has been created by J.K. Rowling. I enjoyed the first film, Fantastic Beasts and Where to Find Them, but I was looking for a little more material to latch onto. It felt a little too light on the story the first time around. Sadly, I have to say that Fantastic Beasts: The Crimes of Grindelwald does the exact opposite of that, overstuffing storylines that will definitely confuse many average viewers. I understood most of the references throughout the movie, but I believe this an example of an extremely talented writer who's trying to expand her world while also trying to stick to her roots, which may hurt this new franchise as a whole. Grindelwald (Johnny Depp) is hunting for followers, a young Dumbledore (Jude Law) confides in Newt Scamander (Eddie Redmayne), Credence (Ezra Miller) searches for his belonging in this world, Jacob (Dan Fogler) struggles to fit in, and countless additional storylines all clash together to form the plot of this film. It almost feels like an episode of Game of Thrones, as the movie constantly jumps from location to location, focussing on each of these characters, which didn't really work as a feature film. This movie tries very hard to be a faithful sequel to Fantastic Beasts and Where to Find Them, while also trying to introduce new elements, but also getting caught up in tying into the Harry Potter franchise. It's almost as if J.K. Rowling was worried about not pleasing enough of the fans, so she kept returning to her script and adding more elements for future instalments. This brings me to my biggest complaint. Rowling clearly knows where she wants this story to go, but the fact that this movie is a series of loose ends that are all still left unanswered by the time the credits began to roll was quite frustrating. The worst movies in a series of films are the ones that solely feel like a set-up for future instalments and that's honestly all I felt this film was. We got to know a little more about each of the important characters and then the film ended. Revelations conclude this film and leave you wanting more of certain story arcs, and even though I'll be in the theatre for the next film, based solely on my curiosity, this particular film didn't work very well for me. The story going in so many directions made it a pretty boring experience in my opinion. Eddie Redmayne, Dan Fogler, Katherine Waterston, Alison Sudol, and Ezra Miller all return and work very well in their respective roles, but it truly was the additions of Jude Law and Johnny Depp that stood out to me. Although Depp isn't as revered as he used to be by fans, I thought his performance was very enjoyable. I thoroughly enjoyed Law's portrayal of Albus Dumbledore as well, but there wasn't enough of him. For how much this story ties into his backstory, I figured his screen presence would be much larger. This film advertises itself as an instalment with the majority of it taking place back at Hogwarts, but that's simply not the case. Only when the story demanded it was it to be shown, which was a letdown in my opinion. In the end, the ambitions of J.K. Rowling still leap off the screen and will dazzle many audiences around the world, the score stood out as a highlight to me, and the promising future for this franchise is definitely felt throughout the final moments of this film. That being said, there are too many plot lines to fully enjoy this experience and too many new characters that take away from the story that was set up in the first film. As a standalone movie, it doesn't work at all, but it's a fine watch if your knowledge of every previous film is the first thing on your mind throughout your entire viewing experience. Fantastic Beasts: The Crimes of Grindelwald is a film that promises a lot in the future, but doesn't quite work as its own film. I walked out pretty disappointed, but also hopeful.
Fantastic Beasts: The Crimes of Grindelwald Quotes
There are no approved quotes yet for this movie.