Fantastic Four
(2015)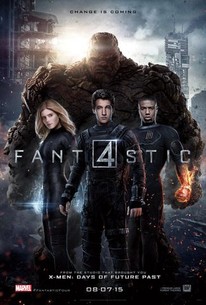 TOMATOMETER
AUDIENCE SCORE
Critic Consensus: Dull and downbeat, this Fantastic Four proves a woefully misguided attempt to translate a classic comic series without the humor, joy, or colorful thrills that made it great.
Movie Info
FANTASTIC FOUR, a contemporary re-imagining of Marvel's original and longest-running superhero team, centers on four young outsiders who teleport to an alternate and dangerous universe, which alters their physical form in shocking ways. Their lives irrevocably upended, the team must learn to harness their daunting new abilities and work together to save Earth from a former friend turned enemy. (C) Fox
News & Interviews for Fantastic Four
Critic Reviews for Fantastic Four
Audience Reviews for Fantastic Four
Unfortunately for everyone involved and especially the audience, the creators of this reboot had no idea what the F4 stand for, or what their stories should be about. This is rather dark, without charm or humor and totally ruins one of the greatest villains of Marvel comics. sure, the special effects are decent and there is potential for a somewhat good film here or there but the stereotypes and lack of an intriguing plot entirely ruin any chance of a redeeming movie experience. Very disappointing.
½
Shocked this got such low ratings. Although it's far from perfect, I liked seeing the less flashy origin story without all the "camp". I would love to see this Fantastic Four appear in a crossover like the Infinity Gauntlet.
Josh Trank's (Chronicle) adaptation of the Fantastic Four property is sadly another misfire in Hollywood's continuing failed attempts at bringing Marvel's First Family to the big screen. The big problem with this movie is that it feels like nobody was really at the helm steering the production. The tone and approach is completely all over the place. One minute it's an 80's-style Spielberg kids movie, then it's a silly attempt at being 70's-style hard science fiction with silly science, then it's horror, and then a bland visual effects-infused superhero affair during the film's extremely rushed climax. The film is mildly enjoyable for the first 30 minutes thanks to it's talented young cast (who do a fine job despite the script not giving them much to work with) and some of the visuals are nice (Ex. Johnny Storm's flame effects). But after they get their powers, everything falls apart. The plot becomes a confused ridiculous mess, the character relationships go completely under-developed, the visual effects are shockingly cheap-looking for a 120 million dollar blockbuster, and there is no real action up until the very end. It all culminates into an absolutely lame climactic battle between the FF and Dr. Doom (who is completely wasted in this movie) that is brought down by weak effects, un-imaginative action, and a nonsensical resolution. I'd rank it up there as one of the worst endings to a film I've ever seen. It's a shame because at it's heart there was a unique approach to a superhero movie somewhere in this mess (hard science fiction with emphasis on emotional story-telling) but the ideas never culminate into a good movie. FF fans will have to continue to wait longer for a good FF movie adaptation...or just watch "The Incredibles".
Christopher Heim
Super Reviewer
Fantastic Four Quotes
| | |
| --- | --- |
| Sue Storm/The Invisible Woman: | This is our chance to make a difference. |
| | |
| --- | --- |
| Sue Storm/The Invisible Woman: | This is our chance to make a difference. |
| | |
| --- | --- |
| Ben Grimm/The Thing: | Help me Reed |
| Ben Grimm/The Thing: | Help me, Reed. |
| | |
| --- | --- |
| Mrs. Richards: | I am smarter than you. |