Fantastic Voyage
(1966)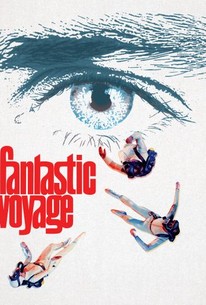 TOMATOMETER
AUDIENCE SCORE
Critic Consensus: The special effects may be a bit dated today, but Fantastic Voyage still holds up well as an imaginative journey into the human body.
Movie Info
Stephen Boyd heads a team of scientists sent on a bizarre experimental mission. Through a revolutionary and as-yet-untested process, the scientists and their special motorized vehicle are miniaturized, then injected into the blood stream of a near-death scientist (Jean del Val). Their mission is to relieve a blood clot caused by an assassination attempt. One member of the expedition is bent on sabotage so that the scientist's secrets will die with him. Another member is Raquel Welch, seemingly along for the ride solely because of how she looks in a skintight diving suit. The film's Oscar-winning visual effects (by Art Cruickshank) chart the progress of the voyagers through the scientist's body, burrowing past deadly antibodies, chunks of tobacco residue in the lungs, and other such obstacles. Oscars also went to Jack Martin Smith and Dale Hennesy's art direction and Stuart A. Reiss and Walter M. Scott's set decoration. Fantastic Voyage was later spun off into a Saturday-morning cartoon series.
News & Interviews for Fantastic Voyage
Critic Reviews for Fantastic Voyage
Audience Reviews for Fantastic Voyage
The overall premise of "Fantastic Voyage" seemed very unlikely in 1966,but even in 2016, nearly 50 years later it still entertains. Based on Issac Asimov's classic science fiction novel of the same title, the movie "Fantastic Voyage" follows a surgical team of scientists lead by Dr. Peter Duval,the top brain surgeon in the country(Arthur Kennedy); Cora Peterson, his technical assistant(Raquel Welch); Dr. Michaels, chief of the medical mission(Donald Pleasance), the commander of captain of operations(William Redfield),and Grant(Stephen Boyd) the security agent for security purposes and the head of operations for this mission Colonel Reid(Edmund O' Brien).. The sealed vessel "The Proteus" is reduced down to microscopic size and it's crew through a secret organizational branch known as the "CMDF"(Combined Miniature Defense Force or Combined Miniature Deterrent Forces) and are injected into the artery of a defecting Russian scientist who has suffered a brain injury and is in a coma from an assassination attempt on his life...The CMDF's Mission....to navigate inside the body of the scientist to get to the brain(within exactly 60 minutes) where Dr. Duval and the team of the "Proteus" will attempt to dissolve to coagulum with a laser beam and get back to the center of the patient's body before everything starts growing back to its original size. Released in theatres on August 24,1966, "Fantastic Voyage" was not only a film of authentic wonder but a science fiction masterpiece with amazing special effects....the team enters the body of a man where they see first hand the oceans of life within the human body that contains the "corpuscles", "the heart", "the lungs" and other features of the human body through which the crew move through are exquisitely designed in great detail with artistic quality. The film's plot creates unceasing amounts of sheer terror and breathtaking suspense as the ship and its crew face realistic and unknown dangers when it is continually threatened by the scientist's natural defenses while dealing with the antibodies and other factors. While the actors give superb performances the real star of "Fantastic Voyage" are the breathtaking and phenomenol special effects that were unheard of and astounding when audiences went to see this back in 1966. Filmed long before today's computerized digital effects, the film is unbelievable...the illusion of a team of dedicated scientists being reduced in microscopic size while being injected into the bloodstream of a dying man. To really truly appreciate this classic movie it is best to see this in the "widescreen" format (Originally filmed in widescreen Cinemascope and Breathtaking Color). "Fantastic Voyage" was a runaway boxoffice hit that was made of a budget of $5.1 million the film took in an estimated $12 million at the North American boxoffice in 1966 and went on to make $4,500,000 in North American Rentals(20th Century-Fox re-release this movie in 1967 and 1970). Nominated for Four Oscars it won Two Oscars for Best Art Direction,and Best Special Visual Effects. Oscar nominated for Color Cinematopgraphy, Editing, and Special Sound Effects,and Original Music Score(Leonard Rosenman). After more than 50 years after its original theatrical release "Fantastic Voyage" has stood the test of time and has held up very well with the impressive and unbelievable special effects. Good intelligent and suspenseful science fiction at its highest order. 50 years later. rayman007@hotmail.com
Mister Caple
Super Reviewer
½
What a title! set to impress with a claim like that huh. This film really is a piece of history, an old iconic pop culture movie that has inspired so many other ideas in various formats. What is interesting is (like some original sci-fi concepts) back in 66 when this film was made the idea was of course deemed fantasy, these days I don't think it is, well with robots anyway. The plot is classic, you all know it, a group of scientists are miniaturised to microscopic proportions in order to enter the human body of a man with a brain clot. The reason, to save him obviously, and because he knows the secret to the miniaturising technology and how to perfect it. At the same time other folk (pesky Russians) are trying to whack him because he defected to the US with the technology secrets. There's a time limit, the stakes are high and everybody will revert back to their normal size when the limit expires, game on. The start of the story is actually pretty technical in my opinion, its all quite meticulous and realistic (as far as the fantasy goes). Compare this to the 80's revamp 'InnerSpace' and this film is far superior in my humble opinion. Where as 'InnerSpace' is a very wacky over the top comedy (good comedy), this is far more sensible which I didn't expect really, it works so much better despite being a slow build up. What I love about this film is the visuals, now I'm very sure in reality if this happened it would be pitch black inside a body, apart from what the ships lights illuminated hehe. However here we have a vibrant underwater-like ocean of life, a rainbow of soft glowing colours in a gloopy sea of bodily fluids. Within these fluids (mainly blood) we see hundreds of transparent blue and pink oxygen carrying corpuscles, antibodies, fibers, proteins, bacteria etc...whilst the crew venture through the heart and lungs on their way to the brain. The whole visual experience looks like errr...a lava lamp and quite psychedelia in a soft way, not surprising seeing as this was the mid 60's. What I do find amusing throughout the film is how much bad luck the team has the moment they enter the body (fantastic little injection sequence I must add, really effective). Straight away they have big problems which basically means they might have to abort, oh well can't get around that, game over, lets go. Then someone has a brilliant plan and they manage to overcome the issue, five minutes later they hit another problem, oh well can't get around that, game over, lets go. Someone has a great plan and they overcome the issue, turn the next corner bang! another problem, oh well can't get around that, game ov....etc... How about the Proteus eh? now is that another iconic sci-fi design or what. Love the shape of that sub with the little bubble dome on top, sound effects are nice too, it reminds me of a ship from the cartoon 'The Jetsons' puttering around. It looks like they built a full scale ship too, really lovely craftsmanship, looks gorgeous, very realistic. Despite looking like an old 'Star Trek' episode this film is a truly award winning entertainment machine. Not only does it look great (and still works well today) but its pretty tense at times too. The final moments for Donald Pleasence are still a bit harrowing as he is slowly engulfed by a large white corpuscle. His frantic squirming and panicking unnerve you quite a bit...'I can't move my hands!. I'm stuck and I can't...I can't move my hands!...Get me out!!'. Mr Pleasence most definitely steals the show throughout this film no doubt, Welsh as usual is nothing more than eye candy in a tight white jumpsuit. Quite liked Edmond O'Brien as the gruff General, everyone else was you're regular cliched sci-fi character. All in all a fine example of good fun science fiction. Some plot holes do reveal themselves which do spoil it admittedly, mainly at the end when the Proteus is left inside the patients body half digested along with the laser gun, the bad doctor's remains (Pleasant) and all the fluid used to inject the crew originally. Surely that would all revert and cause death?. But a few niggly bits aside this film is solidly exhilarating with a lovely rose tinted charm that hasn't died in all these years.
Phil Hubbs
Super Reviewer
Back in the 60's this probably was an amazing movie. A scifi classic. The story is original and I loved the initial credits. Unfortunately is out of date. The FX are good but everything seems too static to represent the inner space. However is a good scfi story with a semi-slow rythm that create some suspense but I wouldn't recommend it if you have seen a lot of Cameron movies.
Sergio Garcia
Super Reviewer
Fantastic Voyage Quotes
There are no approved quotes yet for this movie.