Farewell (L'affaire Farewell)
(2010)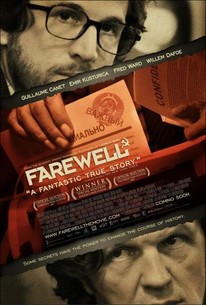 Farewell (L'affaire Farewell) Photos
Movie Info
Engaging, emotional and riveting, "Farewell" is an intricate and highly intelligent thriller pulled from the pages of history -- about an ordinary man thrust into the biggest theft of Soviet information of the Cold War. Ronald Reagan called this piece of history -- largely unknown until now, "one of the most important espionage cases of the 20th century."
News & Interviews for Farewell (L'affaire Farewell)
Critic Reviews for Farewell (L'affaire Farewell)
Audience Reviews for Farewell (L'affaire Farewell)
½
Serguei Kostine's book 'Bonjour Farewell' serves as the source of the historical moments of one of the most important fractures in the Cold War in 1981 - the act of valor of Sergei Gregoriev - and the script for this very important and controversial film was written by Eric Reynaud and Christian Carion who also directed this stunning film (he is best remembered for his brilliant 'Joyeux Noël' which incidentally starred many of the actors in this film). It is a disturbing movie to watch, a film that was condemned by the Russian government, disallowing filming in Moscow - except for some undercover camera work for an apparent Coca-Cola commercial, and refusing to allow Russian actors to take part in the project. It reveals the brutality of the Communist regime of the time, a period Russia would prefer to remain occult The story is somewhat convoluted, a fact that makes it even more revealing of the nature of espionage work at the time. Sergei Gregoriev (Emir Kusturica) passes secret documents to French spy Pierre Froment (Guillaume Canet) living in Moscow with his wife (Alexandra Maria Lara), documents so important that Froment must take extraordinary risks to pass them to the US Government. In the US President Reagan (Fred Ward) must balance the importance of these documents with the balance of relationships with the French government under François Mitterrand (Philippe Magnan) it is a tense struggle for power and at the crux of it is Froment and the ultimately captured Gregoriev who is tortured to reveal his French espionage contact. The rush to finish at the end of the film is breathtaking and heartbreaking. There is a conversation between Froment and the US Feeney (Willem Dafoe) that places the soul of the Cold War years in perspective. Every aspect of this film is involving - the acting is first rate from everyone involved, the pacing is in the fashion edge of the seat direction, and the sharing of the innermost secrets of espionage is information we all should study. A reenactment of the Reagan/Gorbachev era as well defined as any film has dared to show us. Not only is this excellent filmmaking, but it is also information about a man's (Sergei Gregoriev) sacrifice that deserve honor. 4 1/2 stars 3-10-13
Bruce Bruce
Super Reviewer
½
"Farewell" starts in 1981 Moscow where Pierre Froment(Guillaume Canet) steps away from his daughter's dance recital because he says he accidentally left his car door open. Which he did. On purpose, for Sergei Gregoriev(Emir Kusturica) who is none too pleased with the amateur theatrics when he is serious about handing over secrets to the West. Well, Vallier(Niels Arestrup) of the DST kind of likes the amateur status of Froment, thank you for asking, since the KGB will never be looking in his direction. The next meeting goes much better with the KGB Colonel handing the French businessman classified documents which get passed on to Vallier. Newly elected French President Mitterand(Philippe Magnan) then uses the valuable information to placate Reagan(Fred Ward) when he complains about stinkin' Commies in his cabinet. Inspired by a true story, "Farewell" succeeds with no little help from an eclectic cast(David Soul? Really? Seriously?) to build a compelling story on personal and historical levels by not laying it on too thick(a little obviously, maybe, with an ending that's drawn out) in its international game of give and take. The history proposed here is much more believable than anything involving a rogue Congressman from Texas, even as some may be choking on their French fries when credit is given to the French. Plus, the period music actually made me feel nostalgic for a change. All of which is only possible through trust, albeit sometimes misplaced. That leads into a tale of friendship and a different kind of hero.(I like how the movie references "The Man who Shot Liberty Valance" by turning it on its head.) To be honest, I did not like Gregoriev to start because he sounds like a fanatic in his call for a need for change away from the stagnation of the Brezhnev era but quickly warmed up to him.(Now, I supposed one could play the Stalin card when bringing up Soviet Communism which I would then trump with the Khruschev card with his bringing the Soviet Union kicking and screaming out into the bright light of the day.) Even at Froment's urging, Gregoriev cannot leave his homeland, as he could never return which would force him into a life of permanent exile, yelling himself hoarse at ballparks. Now, all we have to figure out is how to peacefully remove Putin from office.
½
Modern take on the cold war spy thriller genre. Works really thanks to the odd-ball couple of Emir Kusturica and Guillaume Canet, plus the director has penchant for writing sentimental stories about engineers. Apparently this true story is so sensitive that no Russians were allowed to perform and the film makers weren't allowed to film in Russia!
Ross Collins
Super Reviewer
Farewell (L'affaire Farewell) Quotes
There are no approved quotes yet for this movie.