Fargo
(1996)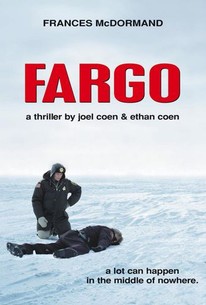 Movie Info
A pregnant police chief is investigating a series of homicides across the frozen tundra. Against a sprawling Minnesota landscape, a car salesman hires two criminals to kidnap his wife. But when the scheme goes sour, and wood chippers get involved, the haphazard kidnapping plot turns deadly serious.
News & Interviews for Fargo
Audience Reviews for Fargo
Marge Gunderson: There's more to life than a little money, you know. Don'tcha know that? And here ya are, and it's a beautiful day. Well. I just don't understand it. "a homespun murder story": Fargo is one of the Coen Brothers best films. I believe I've seen this like four times now and every time I do, it leaves a bigger expression on me. Are there any better filmmakers in the world then the Coen's? This film makes me want to be able to construct a story like this. Their talent is just awe inspiring. Even the things that don't make sense the first time around, like the character Mike who advances the plot nowhere. He's there for a reason though, as is everything and when all the pieces(and there are a shit load of them) come together... chills. The film starts on a man driving in the snow with another car attached. He arrives in Fargo, North Dakota, where he is meeting two men. The man is Jerry Lundegaard and from the first moment on screen, you know exactly who he is. He has no backbone and is cowardly, but what he's seeing the two men about doesn't fit those character descriptions. He's in a big financial and soon to be legal problem, so he hires two men to kidnap his wife and extort a ransom from her rich father. Everything goes wrong for everyone and a bright, but slightly naïve North Dakota police woman is right behind them the whole way. I can't think of any aspect of the film that isn't excellent. None of it is just passable, or okay, or good. It's damn near perfect. The performances. William H. Macy is at his best as the man that can't do anything right. Frances McDormand is beyond words and very deserving of that Oscar. Steve Buscemi and Peter Stormare are hilarious. The first scene where Stormare is just sitting there, imposing his silent stare on Macy; hilarious. The writing. You can't say enough about how well this story is written. From go, the Coen's are making jokes, saying it's based on true events. The direction goes hand in foot with the writing. Joel and Ethan are on top of everything. The cinematography is beautiful with the pure white snow, and that music is so damn atmospheric and haunting. The movie is hard to put into words, but obviously it's worthy of a viewing. In fact, it should be necessary. This is filmmaking at its best.
Melvin White
Super Reviewer
½
Funny, suspenseful, and brilliantly plotted. I loved how the film was constructed, the funny accents, the would-be thugs, the somewhat dim-witted townsfolk, the strong Marge, and the nervous Jerry. Every character is excellently portrayed and the story told is strong and well conceived. A must-see.
This darkly comedic crime thriller from Joel and Ethan Coen is a real doozy, don'tcha know? Set around Minnesota and North Dakota in the winter of 1987, this film both embraces and satirizes the Minnesota upbringing of its writers/producers/directors. William H. Macy is Jerry Lundegaard- a sad sack ineffectual car salesman who is hard up for money. His wife and her dad (Jerry's boss) are both well off, but, even if they knew he needed the money, they probably wouldn't give it to him anyway, His solution is to enlist a criminal version of the odd couple (chatter box Steve Buscemi, and silent psycho Peter Stormare) to kidnap Jerry's wife, then use the ransom as payment for both them and himself. Things get complex, and especially messy when the plan doesn't go as designed, and blood becomes shed. To make things even more interesting, small town sheriff Marge Gunderson (Frances McDormand) gets thrown into the mix, and her down to Earth, smart approach really adds layers of warmth and heart, made even more poignant by the fact that she's also 7 months pregnant. There's already been so much written about this, that I really don't have anything new to contribute. It holds up to its reputation, and is a real masterpiece of writing, direction, and acting. I can't really describe it: everything just clicks, and there's a nice balance to the laughs and bloodshed. The characters and themes are interesting and thought provoking, and come on, Marge Gunderson is undeniably one of the coolest and greatest characters ever created. I'm so happy this film nabbed the Bros. Coen a writing Oscar, as well as one for McDormand's superb acting. It's a shame. Like all Coen Brothers films, the cinematography and music are brilliant, and, while complex, the film is really fairly easy to follow. It's a shame this lost Best Picture to The English Patient, because this was the film that deserved it more. Bottom line: this is a must see, and its place on all the various types of best of lists is absolutely justified. Truly a great American classic.
Chris Weber
Super Reviewer
Fargo Quotes
| | |
| --- | --- |
| Officer Olson: | Found somethin' there, Chief? |
| Marge Gunderson: | No, I just think I'm gonna barf! |
| | |
| --- | --- |
| Marge Gunderson: | And it's a beautiful day... |
| | |
| --- | --- |
| Marge Gunderson: | Prowler needs a jump. |
| | |
| --- | --- |
| Marge Gunderson: | Prowler needs a jump. |