Fast & Furious 6
(2013)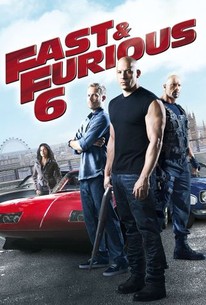 TOMATOMETER
AUDIENCE SCORE
Critic Consensus: With high-octane humor and terrific action scenes, Fast & Furious 6 builds upon the winning blockbuster formula that made Fast 5 a critical and commercial success.
Movie Info
Vin Diesel, Paul Walker and Dwayne Johnson lead the returning cast of all-stars as the global blockbuster franchise built on speed races to its next continent in Fast & Furious 6. Reuniting for their most high-stakes adventure yet, fan favorites Jordana Brewster, Michelle Rodriguez, Tyrese Gibson, Sung Kang, Gal Gadot, Chris "Ludacris" Bridges and Elsa Pataky are joined by badass series newcomers Luke Evans and Gina Carano. Since Dom (Diesel) and Brian's (Walker) Rio heist toppled a kingpin's empire and left their crew with $100 million, our heroes have scattered across the globe. But their inability to return home and living forever on the lam have left their lives incomplete. Meanwhile, Hobbs (Johnson) has been tracking an organization of lethally skilled mercenary drivers across 12 countries, whose mastermind (Evans) is aided by a ruthless second-in-command revealed to be the love Dom thought was dead, Letty (Rodriguez). The only way to stop the criminal outfit is to outmatch them at street level, so Hobbs asks Dom to assemble his elite team in London. Payment? Full pardons for all of them so they can return home and make their families whole again. Building on the worldwide blockbuster success of Fast Five and taking the action, stunts and narrative to even greater heights, Fast & Furious 6 sees director Justin Lin back behind the camera for the fourth time. He is supported by longtime producers Neal H. Moritz and Vin Diesel, who welcome producer Clayton Townsend back to the series. (c) Fox
News & Interviews for Fast & Furious 6
Critic Reviews for Fast & Furious 6
Audience Reviews for Fast & Furious 6
Justin Lin keeps his foot on the pedal with Fast & Furious 6.
There just so happens to be enough material to fill the 2 hour run time. The story does have its moments of absurdity, but for the most part its entertainment value is more than adequate. Despite what could be a complex heist type of film, the plot details are light, which leans this picture more toward an action adventure that is easy to follow.
The action is explosive and in high demand. With that said, a lot of it is over the top, yet it somehow fits right in with the style of film.
It's hard to fault the cast at this point. Vin Diesel and Paul Walker having been at it for years now. Luke Evans and Gina Carano are nice additions to the show. The rest of the returning cast follow in their lead's shoes.
Fast & Furious 6 keeps the intensity up on the worlds longest runway. Recommendable for what it is.
The titles are getting less inspirational now as we lurch into the sixth entry in this massively overblown franchise. We've had LA California Miami Tokyo Dominican Republic Mexico/US border and Rio de Janeiro, now its London's turn for more turbo charged high jinx. More like a videogame as we travel around the globe to different destinations for the car sequences (take your pick). Oh and this is still a prequel to the third film as Han is still alive and well, all the films are a prequel to the third accept for the next (number 7), as I've discovered. So this time there is another bad guy that must be stopped gee whizz! a British villain, the Yanks just love us caddish Brits. The little twist this time is the fact that Toretto and his crew are no longer the ones on the run, they are hired by G.I.Rock.babyoil.biceps.Johnson to bring this bad guy to justice. The reason is because he's building some kind of special tech that can bring down all power for an entire region, and then he will sell it...fiendish! The start of this film is basically a Bond sequence...seeing as this is what the film has now become, a kind of 'Bond/Mission: Impossible/(recent) Die Hard' mix with the good humoured character teamwork of 'Ocean's Eleven'. The uniting of the team is very much in this style, a little montage of the gang in their various hideouts, then all called up for service by the leader, criminals assemble! Mr Johnson is so hokey here too, of course he's not meant to be anything else really but Jesus! The guy is getting so thick he can't walk right, either that or he just swaggers horrendously. The dude is like a tagline machine, spitting out one butch statement after another, he's a walking action figure. So virtually everybody is dragged back into the frey both goodies and baddies, the casting continuity is actually impressive. I think we all know now that Rodriguez is the big surprise reentry here as it turns out she wasn't killed in number four. Nope she has been brought back to allow the franchise to continue even further. In all complete and utter honesty most of this film is totally mundane and routine, there is nothing here that is fresh or exciting. We are shown what really happened to Letty although I can't believe she simply wasn't just shot in the head to make sure. Carano gets a good fight sequence...naturally, the underground is shown along with some other landmarks...naturally, and of course we are given one obligatory street race. London and no traffic?? nah! but wait! what was that moment when O'Connor knocks that bug device off the front of his BMW by skidding past a concrete pillar? How the hell did he even know where it was? its size? width? how on earth did he manage to gauge that move without slamming into the pillar or just missing the bug completely?? I know these films are not to be taken seriously but its moments like that that just make it laughable, a joke. The cars this time are more unique with a few more British models (of course), bored with large numbers of imports we now get some curious models. The Dodge Charger Daytona and its long pointed body with huge spoiler fin, a British Ford Escort, the Jenson Interceptor, a Ford Anvil Mustang, a Plymouth Barracuda and an Alfa Romeo are all used. The film grows tiresome right up until a fast paced chase sequence in Spain down a highway. Starting off kinda generic but quickly turning into something much more interesting as they end up chasing a tank. The sequence unfortunately ends on a highly absurd set piece requiring CGI assistance which spoils the moment but it is fun (how many innocent people were killed on that highway?!!). Just when you think that's that bugger me we get another good sequence, saved the best stuff for last it seems. This time the team are chasing (always chasing) a large cargo aircraft which is stuffed with yet more cars. So guess what? yep we get lots of cars everywhere...silly stunts, CGI stunts explosions...utterly impossible feats, Dwayne 'my t-shirts are really tight' Johnson fighting an even bigger meathead, more girl fights, heroic deaths and the longest damn take off in the world. Seriously how long does it take that plane to lift? and how long is that runway?? At first I was really not going along with this whole idea, a sixth film! Then as I started to watch I realised hey I was right! this is just complete rehash. Its only when we get to the last half hour or so of the film that things get exciting with those two chase sequences, up to then its seriously average. I like how they have engineered the plot from part three and the franchise as a whole into a bigger picture, all these films are prequels and the finale here does tie that up nicely. The only thing is before that they do tie up the whole franchise very nicely with a good ending for all the characters involved. I did get the feeling this was the perfect moment to finish this for good, end it now with a solid bookend. The fact they are pushing it further is really milking it and really pushing their luck...if you ask me. This was gonna be a low score but the last two sequences in the finale saved this films life big time, almost a fail, how much longer can it hold out?
Phil Hubbs
Super Reviewer
½
From the very beginning, the Fast & the Furious franchise has always been the very definition of guilty pleasure. High art it ain't, but it's undeniably fun. What has kept the franchise alive, however, has been its willingness to evolve. While the original was essentially a remake of Point Break, by #3 it was focused on the racing, and then starting with the fourth film it took a giant step in reinventing itself - Fast & Furious as a heist franchise. Fast Five was arguably the best in the series so far, with the whole gang back together as well as the addition of Dwayne Johnson. Fast and Furious 6 (or just "Furious 6" as shown in the film) continues in the vein of the previous film, but cranks up the outrageousness. This works both for and against the film. The action scenes are fun, exciting, and adrenaline-filled, but they grow increasingly more outrageous and at times seriously stretch your ability to suspend disbelief, soliciting more than a couple eyerolls. The involvement of the gang in this mission is questionable from the beginning. They have the knowledge and talent when it comes to cars, but somehow they're also meant to hold their own in gunfights and such against miltary-trained personnel. The movie balances its lasrge cast very well. Every character has their moments and none feel short-changed in this movie. There's not a weak link in the cast. Well, I guess one... New this time around are Gina Carano as Hobbs' right-hand woman, and Luke Evans as the villain. Evans fits well, and plays his part without going too over-the-top. Carano, on the other hand... well, the woman can certainly fight, but she can't deliver even a single line of dialogue convincingly. I take back everything I ever said about her being a good choice if they ever make that Wonder Woman movie. Beyond that, everything is just as it should be - the action, the humor, the cars, the music... it all adds up to a blast of a movie, even if it is a bit unbelievable. The ending tag scene left me a bit conflicted. On the one hand, the movie kind of tied up the series nicely and made a nice conclusion, but then they go and open it up for the next sequel (and I imagine not the last). I'm all for more of these movies, but only if they can continue to evolve and stay fresh without just being rehashes. Where does this rank in the series? I'll have to see it again to be certain, but it's definitely top 3, up there with 1 and 5.
Martin Bishop
Super Reviewer
Fast & Furious 6 Quotes
| | |
| --- | --- |
| Braga: | She had no memory. Perfect girl huh? |
| | |
| --- | --- |
| Brian O'Conner: | Well, you know what they say Stasiak; if you want the carreer-changing big fish, you got to be willing to put on the big boy panties and sail out to the deep water. |
| Stasiak: | You're an asshole, you know that? |
| Brian O'Conner: | I missed you, too man, I really missed you. |
| | |
| --- | --- |
| Tej: | Uh, guys I think we need a change of plans. They got a tank. |
| Roman: | I'm sorry. Did somebody say a tank? |
| | |
| --- | --- |
| Roman: | Which one of these is a dollar? |