The Fast and the Furious: Tokyo Drift
(2006)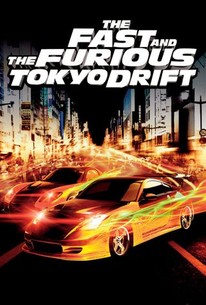 TOMATOMETER
AUDIENCE SCORE
Critic Consensus: Eye-popping driving sequences coupled with a limp story and flat performances make this Drift a disappointing follow-up to previous Fast and Furious installments.
The Fast and the Furious: Tokyo Drift Videos
The Fast and the Furious: Tokyo Drift Photos
Movie Info
Better Luck Tomorrow director Justin Lin picks up where John Singleton left off to offer a high-octane look at the world of underground Japanese drift-racing in the latest installment of the super-charged Fast and the Furious film series. A frustrated teen from a broken home, Sean Boswell (Lucas Black) is an outsider looking to make a name for himself on the illegal street racing circuit. When Sean is busted by the police for his high-speed exploits and given the option of either spending time behind bars or moving overseas to live with his no-nonsense, military man father who's currently stationed in Tokyo, the young rebel packs his bags and sets his sights on Nippon. Though at first reluctant to adapt to the unfamiliar customs and foreign code of honor of his new home, Sean soon strikes up a friendship with American speed freak Twinkie (Bow Wow), a like-minded race fan who schools the inexperienced newcomer in the pulse-pounding world of drift-racing. Inadvertently challenging local champion and yakuza associate D.K. (The Drift King) his first time on the road, Sean is subsequently forced to work under expatriate Han (Sung Kang) to pay off his debt after failing to cross the finish line first. Taking note of the young American's affinity for racing as he warmly welcomes him into his merry band of misfit drift-fanatics, Han slowly introduces Sean to the key principles of the popular new racing style. When Sean makes the potentially deadly mistake of falling for D.K.'s girlfriend Neela (Nathalie Kelley), he'll need all the help he can get to face his most challenging race to date and take on the most notorious driver on the Tokyo drift scene in a hair-raising, hairpin-turn race where the winner truly takes all. ~ Jason Buchanan, Rovi
Critic Reviews for The Fast and the Furious: Tokyo Drift
Audience Reviews for The Fast and the Furious: Tokyo Drift
I've said it before and I'll say it again...this is the best darn Fast n Furious chapter on the track by miles (puns away!). No big names and no massive overblown stunts, this is just pure driving at its finest, real driving, drift driving. The film works because there is no pressure on its shoulders, the sequel was terrible so there were no expectations here. Now I know this has been long forgotten by the recent tidal wave of cookie cutter sequels and merely because Vin Diesel came back, but none of them hold a candle to this. The plot is basic and involves a young tearaway who seems to be getting into trouble where ever he and his mother move to. One stunt too many causing major damage to property and writing off his car means he's being sent away to his father...in Japan. His father was in the military so this is why he's based in the land of the rising sun, and because of his bad record (and to avoid jail) this young lad gets shipped to Japan to live with his dad. That's a punishment?! sounds pretty cool to me. Of course the entire plot is predictable and hokey as hell, its virtually bordering on 'The Karate Kid' with cars. New kid in town, makes a close friend who helps him, makes enemies with the local bully cos he falls for his girlfriend, gets into all sorts of scrapes in the meantime, his father can't control him...blah blah blah, yeah its damn unoriginal sure, but that's not why we watch these films is it. It is a shame the main lead in this is totally miscast, he looks like a doofus and sounds it too with that hick southern accent of his, but mainly he's just not much of a good looking lead, strange choice. You like Japanese super saloons? more specifically you like Nissan 350Z's? you're at home here my friend. The first car sequence in this film is set within a multi-storey car park, a damn tight one!. The skills on show in this one sequence alone are breathtaking, the 350 drifts around the ultra tights bends inches from the walls, people and other parked cars. You gotta see it to believe it and its clearly real. The visuals in this film are a real treat, Japan is an extremely photogenic city and always looks good, especially at night. The sight of these glistening hyper cars purring along the highways and small streets of Tokyo, cruising part the neon lights, bustling crowds, old town areas and towering lit up skyscrapers is simply gorgeous. Most super cars/heavily modded cars look good anywhere, but set them in Japan and they just look even better, some lovely eastern car graphics and mod kits in this film too. Most of the car sequences in this film are stunning in all honesty, even the training sequences where our US lead learns to drift, its all filmed perfectly. The guys behind the camera knew how to get the best angles and shots for these sequences, the cars just look awesome. 350's EVO's a Mazda and a highly modded Silvia make up the roster this time but come the big finale race naturally the Yank tunes up his dads old Mustang to challenge the bad guy. Its kinda silly really because I really don't think there would be any way an old Mustang could beat a Nissan 350Z, especially at drifting, the Mustang couldn't handle it. But I can't deny the final race is pretty cool, its quite tense and does get your adrenaline going slightly...even though we know who's gonna win. The whole reason behind the race is daft anyway, why would a mafia kingpin allow a race to decide who leaves town. And why would the loser simply leave town? what is this a western!? doesn't the Yank and his friends owe money? wouldn't they cut his fingers off or something. Anyway this is hands down the best actual racing film in the franchise if you ask me, a very highly professional and realistic street racing flick which deserves respect. The location simply enhances the experience, the only thing I don't like about these films (including the first two) is watching these awesome Jap cars get bashed up, its painful to watch because they're amazing cars and damn expensive to run! The very end is also fun with a cameo from Toretto (Diesel) but again I gotta laugh, does this guy really think he can beat a Jap drift car in a tight multi-storey car park with a huge brick of a US car like the Plymouth Satellite?! damn thing is wider than a bus!
Phil Hubbs
Super Reviewer
½
This film, starring an entirely new cast, is actually very, very enjoyable fun; However, even though I am saying that, it is definitely the weakest in the franchise, not because the story sucks, but because the cast is all missing, and I feel that we really needed to see them in order to keep everyone interested. I wish there was more than just a cameo to hold us in. So, there is a senior high school student who breaks the laws at home due to street racing, and eventually has to be shipped off to live with his father in Tokyo, Japan, and it is has a great atmosphere for racing fans. As he continues what he loves while in Tokyo, Sean (lucas Black) meets new characters and races to earn respect. When he loses his first race he must repay him by owing him a car. It seems similar to the original, but hey, it's the fast and the furious, story is not what is meant to be key here. Tokyo Drift is great fun!
Tokyo Drift marks a point in this franchise where the filmmakers have had to broaden their horizons by venturing to other parts of the globe to keep making new movies. Maybe after this, we'll get The Fast and the Furious: London Meltdown, or The Fast and the Furious: Autobahn Speed. Lucas Black plays Sean, an American sent to live with his father in Tokyo to escape a jail sentence for street racing. So what does he do in Tokyo? He finds the street racing circuit. Japanese racers practice a style called drifting, which he quickly finds out is nothing like American street racing and ends up having to work off a debt to Han, who takes Sean under his wing to race for him to pay down the debt as well as beat Han's rival, DK, who happens to be the nephew of the Yakuza boss. While the story is weaker than the previous installments, director Justin Lin displays a fine attention to detail. He authentically captures Japanese society by emphasizing the intricate differences that separate their culture from ours. He also creates amazing race sequences. The stunts performed in this movie are not only performed with minimal CGI, they are filmed from angles that show the entire thing uncut, which makes the visual effect that much cooler. If you simply turn off your brain and just try to enjoy the film for what it is, The Fast and the Furious: Tokyo Drift is a guilty pleasure that somehow manages to sustain the franchise.
Edward Boxler
Super Reviewer
The Fast and the Furious: Tokyo Drift Quotes
| | |
| --- | --- |
| Sean Boswell: | Can he drive? |
| Twinkie: | Can he drive? You know what DK stands for? |
| Sean Boswell: | Donkey Kong? |
| | |
| --- | --- |
| Cindy (Clay's Girlfriend): | How about me, the one who wins takes me. |