Fast, Cheap & Out of Control
(1997)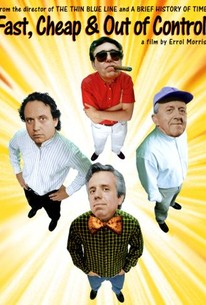 TOMATOMETER
AUDIENCE SCORE
Critic Consensus: Made with a care and patience that belies its title, Errol Morris' Fast, Cheap & Out of Control combines the disparate sensibilities of four idiosyncratic subjects to present a fresh, cogent perspective on life.
Fast, Cheap & Out of Control Photos
Movie Info
In this film, four eccentrics talk about their seemingly diverse lives, interests, and offbeat occupations: Lion tamer Dave Hoover offers theories about wild animal thought processes; topiary gardener George Mendo clips hedges to various creatures; mole-rat specialist Ray Mendez researches the animals' behavior; robotics scientist Rodney Brooks assembles autonomous robots.
Critic Reviews for Fast, Cheap & Out of Control
Audience Reviews for Fast, Cheap & Out of Control
½
A documentary profiling four unlikely subjects: a lion tamer, a topiary master, a naked mole-rat expert, and a robot designer. Each of these craftsmen is somewhat interesting on their own, but what makes the documentary work is the way unexpected connections start to arise between a quartet with very different obsessions.
A intriguing and entertaining documentary film about four men and their passions - lion taming, robotics, topiary and mole rats. Thefilm lets the men speak for themselves - there's no "directors narrative" telling you what to think - and the visuals and the voiceovers of the four subject areas interlink at times... .so you might be watching a lion tamer but listening to a hedge cutter (and damned if you can tell the difference between the four sometimes). I THINK the film is all about the interconnectedness between, well, everything - animal, vegetable and mineral - but I 'm not really sure. Watching this film was like struggling to grasp a nugget of wisdom that's being held tantalisingly just out of reach.
This is more of a documentary then it is a movie but it was an entry in the 1997 Toronto International Film Festival Special Presentations. What we have here is a montage of four different people, and the stories go on within each other continuously. The four people are a topiary gardener who has a hedge in the shape of a giraffe and is as big as one, a robot engineer who has some pretty neat robots for 1997, a naked mole-rat expert and these are some ugly critters and I wish I could find someone to send me to Africa to study a rat, but I rather go to Italy) and a lion tamer who knew Clyde Beatty so he says and he's been attacked so many times but not a scare on him. All in all it made for a pretty boring movie for me anyway, but you just might find an interest in the Naked Mole Rat, My only interest is he don't end up in my Home. 2 Stars
Bruce Bruce
Super Reviewer
Fast, Cheap & Out of Control Quotes
There are no approved quotes yet for this movie.