Fast Five
(2011)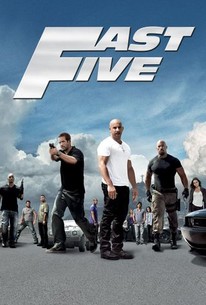 TOMATOMETER
AUDIENCE SCORE
Critic Consensus: Sleek, loud, and over the top, Fast Five proudly embraces its brainless action thrills and injects new life into the franchise.
Movie Info
Former cop Brian O'Conner (Paul Walker) partners with ex-con Dom Toretto (Vin Diesel) on the opposite side of the law. Dwayne Johnson joins returning favorites Jordana Brewster, Tyrese Gibson, Chris "Ludacris" Bridges, Matt Schulze, Sung Kang, Gal Gadot, Tego Calderon and Don Omar for this ultimate high-stakes race. Since Brian and Mia Toretto (Brewster) broke Dom out of custody, they've blown across many borders to elude authorities. Now backed into a corner in Rio de Janeiro, they must pull one last job in order to gain their freedom. As they assemble their elite team of top racers, the unlikely allies know their only shot of getting out for good means confronting the corrupt businessman who wants them dead. But he's not the only one on their tail. Hard-nosed federal agent Luke Hobbs (Dwayne Johnson) never misses his target. -- (C) Universal
News & Interviews for Fast Five
Critic Reviews for Fast Five
Audience Reviews for Fast Five
½
Starting out with a really great action sequence as well as ending with one, this action flick has its problems with everything in between. The characters work, even though some are cardboards and there are too many of them to do them all justice. But while the enemy may be portrayed as dangerous, he has hundreds of disposable minions, which simply does not exactly raise the stakes. Once again, the mid-film visit to the local racing scene is particularly silly and pointless. The movie takes itself a little too serious at times and forgets that it's just supposed to be fun. That's why the beginning and the ending work, but in between there is a lot of thin air, something part six did so much better. Entertaining, but dumb.
½
A new film, a new venture and a whole new never ending stream of super modded cars for Toretto and his crew. No need for explanations on how they get these cars, they just get them, deal with it people. Fairly disappointing, overly long and actually slightly dull new chapter in this chav/hip hop racer franchise. Amazing it has lasted this long really but the films have been a roller coaster of quality for me. First film was a boy racer flick complete with dumb neon underside lighting but fairly original and fun. Second film was a bit of a rehash with colourful new street racer characters and dripping in bling...was pretty awful. Third film was a straight to the shops deal which many didn't like BUT is actually by far the most superior of the franchise due to the excellent and very realistic drift racing making it a proper street racing film. The fourth film regroups the original cast and has a drug running plot. This means the street racing has been pushed to one side in favour of generic action man hokum. Now we have number five which seems to have ditched a lot of the street racing element and is more of an out n out heist flick. Along the lines of 'The Italian Job' remake with flashy over the top car/people stunts, the usual regular cliched team of criminals and the usual regular cliched breaking in techniques that we've seen so often now we could all break into banks ourselves. Still impressed with the cast continuity though I gotta admit. Everyone is back again including Bridges from number 2 and Schulze all the way from the very first film. It is also of course the first introduction of Dwayne Johnson into the franchise and he fits in perfectly in all honesty. He stands around barking orders with his chest puffed out, arms glistening and holding large weapons. There is a hint of street racing but that's all we get...a hint, we don't see the guys winning their fast cars. I think the stupidest scene in the film is where they race police cars together, they just waltz in and steal four cruisers, apparently, then try to make us believe that these regular police cruisers are fast souped up motors!! and manual!...they do realise the US mainly uses auto? (of course they used fast cars in reality as stand in's). Highlight is the fight between Diesel and Johnson, two big slapheads grunting n sweating over each other which is pretty decent but after that it gets silly again as both Johnson and his female partner decide to join Toretto and his criminals in the heist! The final big chase/escape sequence is impressive with tonnes of carnage and wreckage, your basic common destruction porn fix. It does admittedly command your attention, yet I wonder how many innocent people Toretto manages to kill right at the end. If you want street racing you won't find it here, this is a bank heist flick which isn't too original. Reasonable mindless fun but nothing new, seen this kind of thing so many times and this offers nothing new. This film marks the end for the street racing aspect in this franchise and enters the saturated action heist genre. On a final note I might add...there's no way Toretto's Dodge Charger could ever compete against Brian's Skyline GTR at the end. How many times are they gonna try and show this to us??
Phil Hubbs
Super Reviewer
½
An energetic, high-octane entry in the much celebrated 'Fast and Furious' franchise concerning Brian O'Conner (Paul Walker) breaking Dominic Toretto (Vin Diesel) out of prison, and how they get their gang back together to do a job in Rio de Janerio in hopes of buying their freedom back, all while being tailed by a tough as nails government agent (Dwayne Johnson). The first 'Furious' film does hold a nostalgic piece of my heart, given it was a movie I really enjoyed growing up, and even though I told myself I would not go back after the horrible second film, I decided to give this one a try after the sudden, heartbreaking death of Paul Walker, coupled with this film in particular receiving positive buzz. The result is a brainless action movie that fully embraces its own ridiculousness while adopting the plot line of "The Italian Job" and pushing the pace ten times past the normal limit. The acting is appropriately over the top to compliment its insane plot line, especially Johnson who really gives this franchise the energy it needed, and the chase scenes and plot twists are largely enjoyable despite being completely predictable for the most part. Basically it is almost impossible not to have a great time watching this movie, and for that it accomplishes its job more than well.
Dan Schultz
Super Reviewer
Fast Five Quotes
| | |
| --- | --- |
| Dominic Toretto: | The only thing that matters right now is the people in this room. |
| | |
| --- | --- |
| Roman Pearce: | When are you gonna give Martin Luther King his car back? |
| Roman Pearce: | When are you gonna give Martin Luther King his car back? |
| | |
| --- | --- |
| Hobbs: | give me the dam veggies |
| Hobbs: | Give me the damn veggies. |
| | |
| --- | --- |
| Hobbs: | You're mistaken if you think you got a goddamn choice boy! |