Fast Girls
(2012)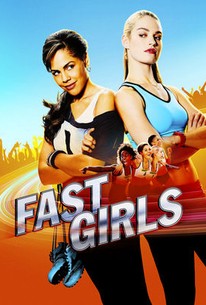 Movie Info
The film, starring a trio of Britain's hottest young talent - LENORA CRICHLOW (Being Human), LILY JAMES (Clash of the Titans 2) and BRADLEY JAMES (Merlin) - tracks the rollercoaster journey of a British female sprint relay team and is set to be the feel-good film of the summer.
Critic Reviews for Fast Girls
Audience Reviews for Fast Girls
Predictable but winningly made against-the-odds, underdog, rags-to-riches story with plenty of genuinely air-punchingly exciting sequences and a moving thread about family by choice as apposed to family by genetics. Anchoring it all is Lenora Crichlow's superb lead performance. This is what Rocky wished it could be. Try not to cry like I did.
Daniel Parsons
Super Reviewer
The film is totally predictable and was obviously made to cash in on Olympic fever last year but I still enjoyed the story of a working-class runner making good on the International circuit. No cliche is avoided along the way but the cast are likeable (plenty of known British face to enjoy, especially from TV) and they actually look like they are competing athletes which heightens the drama. I got swept along by the end and was smiling at the final finish line. Not great British film-making but still enjoyable.,
David Sayers
Super Reviewer
A enjoyable feel good film to get you in the mood for the London Olympics. It has a good array of British acting talent on show. A bit cheesy but fun nevertheless, and with a cool soundtrack to round it off!
Fast Girls Quotes
There are no approved quotes yet for this movie.