Faster
(2010)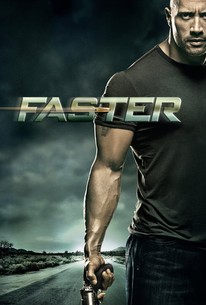 TOMATOMETER
AUDIENCE SCORE
Critic Consensus: It's good to see Dwayne Johnson back in full-throttle action mode, but Faster doesn't deliver enough of the high-octane thrills promised by its title.
Movie Info
After 10 years in prison, Driver (Dwayne Johnson) has a singular focus - to avenge the murder of his brother during the botched bank robbery that led to his imprisonment. Now a free man with a deadly to-do list in hand, he's finally on his mission...but with two men on his trail - a veteran cop (Billy Bob Thornton) just days from retirement, and a young egocentric hitman (Oliver Jackson-Cohen) with a flair for the art of killing and a newfound worthy opponent. The hunter is also the hunted. It's a do or die race to the list's finish as the mystery surrounding his brother's murder deepens, and new details emerge along the way hinting that Driver's list may be incomplete. -- (C) CBS Films
News & Interviews for Faster
Critic Reviews for Faster
Audience Reviews for Faster
Pretty good action film starring The Rock. Despite the formulaic ideas displayed on-screen, this film is pretty entertaining. Although nothing too original, this is still a well executed revenge thriller due in part to Dwayne Johnson's performance. I enjoyed the film for what it was, and despite the fact that it's a film that we've seen many times before, this is still a fun and entertaining film to watch. The film is not perfect and it has its flaws, but nonetheless it's still a worthwhile action, revenge film that is a thrill ride from start to finish. Acting wise, the performances are pretty good considering that the film relies on previously seen ideas. The film possesses some good moments, but as a whole is nothing too special. This is nonetheless a fine little revenge thriller, and if you want a good film to watch that offers mindless thrills, then Faster is the film to watch. The film relies on an old formula, but works well enough. The performances of Johnson and Billy Bob Thornton are what made the film watchable. I liked the film and thought it was a thrilling film from start to finish. As a whole this is a mindless action film that should appeal action buffs. Using a clichéd formula, Faster still manages to be a thrilling film and if you have nothing else better to watch, give this one a shot. This film is not meant to be anything to great, and it succeeds at just being a thrill ride, which is what it is. Faster is straight forward and it succeeds at being an effective and fun action film worth watching despite its imperfections.
½
What the hell was this? Dwayne Johnson A.K.A "The Rock" has been one of the few successful entertainer-turned-actor; I jumped into this movie anticipating an electrifying performance by D. Johnson despite a lacking plot. As it pans out, "Faster" lacks in every way, shape, and form. Direction, editing, and cinematography is poor, and the storytelling and screenplay is horrendous. They even tried to put in the worst plot twist ever. What was with all the subplots? It never adds up in the end. You're never invested with its boring subplots but ever more so, it never finalizes in the end. Dwayne Johnson always has a charisma that pops out of the screen but his one-dimensional character chained him down from doing more. Gosh... this movie sucked.
Just look at that movie poster, The Rock is begging you to look at his Johnson. Ridiculous.
Lenny Muggsy
Super Reviewer
Faster Quotes
| | |
| --- | --- |
| Driver: | Your sermon's over. |
| | |
| --- | --- |
| Driver: | Where's the old man? |