Fat Pizza
(2003)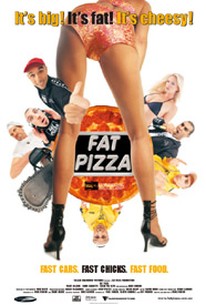 AUDIENCE SCORE
Critic Consensus: No consensus yet.
Movie Info
Australian director Paul Fenech leaves virtually no topic of Australian interest unsatirized in his scatologically-laden 2003 gross-out comedy, Fat Pizza. Pizza delivery guys Pauly (Fenech), Sleek (Paul Nakad), and Davo (Jabba) all go about their daily business while getting caught up in a series of misadventures. Pauly manages to get into fights with a rival fast food outlet's mascot while incurring the wrath of a gang of midgets miffed about his usage of a handicapped stall in a restroom. Sleek is a Lebanese rapper who simultaneously hides from the various women he's slighted and from racist cops who are just interested in roughing him up for being Middle Eastern. New delivery man Davo's mission is much simpler: he's a druggie in search of a new high. Meanwhile, their violent boss Bobo Gigliotti (Johnny Boxer) attempts to divert the brow-beating he regularly gets from his mother due to his being a middle-aged virgin and signs up for a mail-order bride from Vietnam. Based on an Australian television series of the same name, Fat Pizza premiered in Australia in 2003 with decidedly mixed reviews. ~ Ryan Shriver, Rovi
Critic Reviews for Fat Pizza
All Critics (1) | Fresh (1) | Rotten (0)
In total bad taste, vulgar, irreverent, politically incorrect and very funny, Fat Pizza is an over-the-top, high-energy rocket ride of insanity.
April 14, 2003
Audience Reviews for Fat Pizza
Lolz - Aussie film-making doesnt get any better! :-) For those who arent Aussie, Fat Pizza is the hit TV series in Oz which pulls no punches in parodying the many steretoypes in Aussie ie: Western sydney culture - and they go where usually many TV or film makers wont even touch by parodying culture, religion ethnicity and everything else you can think of. Unless you Australian, you probably wouldn't get some of the jokes, but the cars, girls, food and those "little" things will get you to crack up, as well as the fully hilarious characters and special guests, which are famous Aussie celebrities and comedieans. Watch it if you liked gross out comedies or others which challenge the steretypes and pretty much goes overboard. :-)
Fat Pizza Quotes
There are no approved quotes yet for this movie.