Fat, Sick and Nearly Dead
(2011)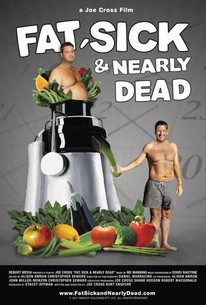 Fat, Sick and Nearly Dead Photos
Movie Info
Overweight Australian filmmaker Joe Cross attempts to wrestle back control of his failing health during a cross-country trek in which he engages everyday Americans in discussions about food and obesity in this lighthearted documentary addressing a deadly serious subject. Clocking in at 310 pounds and pumped full of steroids to battle a debilitating autoimmune disorder, Cross realized that he would soon be dead if he didn't make some major lifestyle changes. But pharmaceuticals were only treating his symptoms, and no doctor seemed capable of providing the long-term care and support it would take to turn his life around. Desperate, Cross loads up his car with a juicer and a generator, and pledges to survive on nothing but fresh fruit and vegetable juice for 60 days. Not long after his journey begins, Cross quickly realizes that he's well on his way to ending his growing dependence on prescription drugs. His body has begun to heal itself, and as the process continues, Cross attempts to prove just how empowering it can be to take responsibility for our own health.
News & Interviews for Fat, Sick and Nearly Dead
Critic Reviews for Fat, Sick and Nearly Dead
Audience Reviews for Fat, Sick and Nearly Dead
EightThirty .
Super Reviewer
Not informative, not entertaining, and not even in good taste. This "documentary" is nothing but self-promotion, self-aggrandizement and cynically commercial without offering any insight beyond "Americans eat poorly". However, if you enjoy chatting with people on a diet about how much fatter you are than them, or if you relish the awkwardness of seeing someone on a diet tell a man sitting next to his son at a greasy spoon diner that he'd rather be on a juice diet than die and abandon his children, then you might like this insufferable film. On the other hand, if you want to learn something other than how highly the filmmaker thinks of his own weight loss accomplishments, I would find almost anything else to watch.
Christian C
Super Reviewer
½
No matter what I can at least say with certainty that this documentary has changed the way I view health and juice fasts. Getting that out of the way, I have a couple of problems with this film. For one, the director of the film has never directed anything else in his life, and he is in fact a highly paid executive. That doesn't take away from his sincerity or the film's actual usefulness as a means to educate. My main problem, I would have to say, is Cross' ignorance and the fact that he doesn't understand what the audience wants to see. The film includes completely stupid and cheesy animation, and a large chunk of it is about himself and his own struggle with weight. Cross isn't all too interesting, though his interviews with the American people really brought about a sense of community and showed that everyone struggles with willpower. Cross also blindly limits the means of obesity to willpower though, which is ignoring the state of the American economy and health care system in this country. It seems that he was simply trying to emulate Super Size Me's message by showing the alternative to a fast food diet. If he hadn't stumbled upon Phil Staples and got him to join his crusade for juicing, this movie would be completely flat and pointless. Phil humanizes the film, because he was a very large individual with bad eating habits and a sedentary job as a truck driver. He had a hard life and turned to food, and he was human and likable compared to Cross' blunt and unlikable presence onscreen. I would even have liked to see Phil further down the line, and let off of Cross for a bit so that could have been accomplished. It really changes the way you look at nutrition, but I'm not going out to preach this involuntary commercial for juicers anytime soon.
Spencer S.
Super Reviewer
Fat, Sick and Nearly Dead Quotes
There are no approved quotes yet for this movie.